100 SERIES Linea Aromi 30 ml Vapor Cave
Your order will be processed within 24/48 hours

In case of assistance for the product contact the number +39.0623231549
Description
100 SERIES Linea Aromi 30 ml Vapor Cave
100 SERIES Linea Aromi 30 ml Vapor Cave Buy from Smo-King at the best price online Vapor Cave Aromas of the 100 Series Line. The best Electronic Cigarette Liquids made by VAPOR CAVE, which makes its debut once again in Concentrated Aroma format 30 ml in 100 ml. All Vapor Cave Aromas are Extracted Aromas in Purity, therefore Natural Aromas.
8 new and 3 "old" among the most popular aromas of Vapor Cave. Reformulated to be intense right away (shake and vape).
ALL THE AROMAS VAPOR CAVE LINE 100 SERIES:
AGED RED VIRGINIA: extraction of fine Anatolian Red Virginia and Malagasy "yellow" Virginia leaves.

BLACK BALKAN: extraction of Greek "Turkish" Tobacco leaves, Macedonian Basma, Oriental "Smyrna" and Cypriot Latakia in a mix with typically oriental, smoky and spicy scents.

BLACK BURLEY: extracted with cold PG maceration of Black Burley tobacco with Fire Cured refinement, from our high ground cultivation.

BLACK CAVENDISH: extraction of Burley and Virginia air cured tobacco with typical Black cavendish refinement.

BRUMA: pure extraction of "local" Kentucky with small leaves. Leaves refined by cold smoking with wood essences and Plectranthus shrubs. Strong and "rustic" aroma with strong notes that recall "Latakiosi" scents.

CYPRUS LATAKIA: extract with cold PG maceration of Cypriot Latakia Tobacco leaves (Yellow quality). One of the 2020 novelties most appreciated by our Vapers Friends.

KENTUCKY: extraction of pure sun-cured Kentucky leaves from our high-altitude cultivation (800 meters above sea level).

LE RUNE: extraction in purity of "local" Burley. Burley air cured without fermentation and with "fast" drying in a cold air dryer. Thanks to the particular vegetative condition deriving from altitude (800 meters above sea level), to the total lack of both chemical and organic fertilization (we use only a little stone ash) and to the refinement without fermentation phases, we were able to obtain an extract with minimum% sugars without affecting the taste and aromatic completeness (and the coils thank you ...). The result is an excellent liquid both as an all-day and as a "base" for mixes.

ROSSO ANTICO: extraction of local fire-cured Kentucky Tobacco and Red Wine must with Cavendish refining.

SWEET CAVENDISH: Virginia Tobacco extraction with long Cavendish refining (in wooden barrel soaked in Cherry liqueur).

TUSCAN: extraction of leaves from local Kentucky Fire Cured and Kentucky U.S.A. Air Cured with a tip of Turkish Latakia.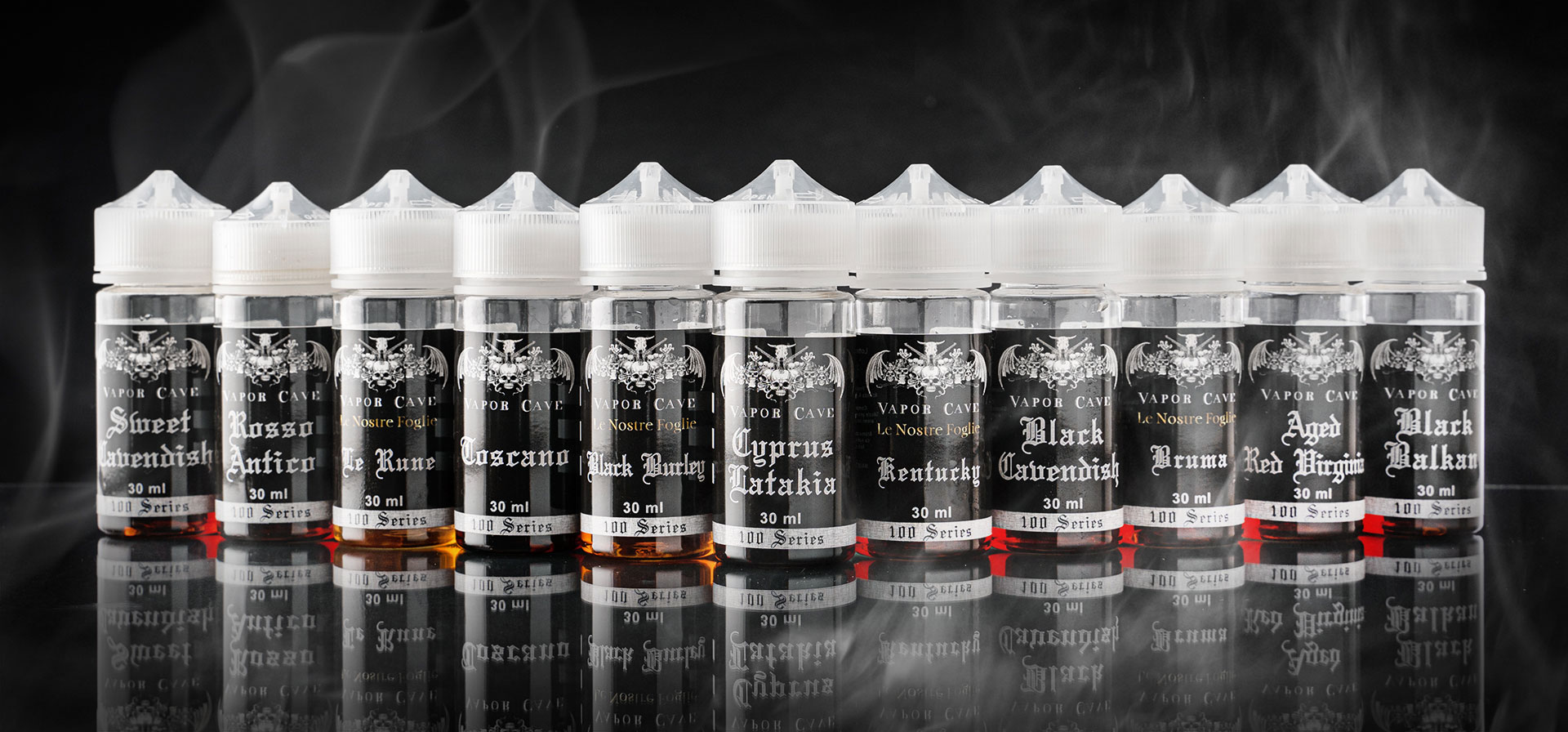 PREPARATION OF VAPOR CAVE AROMAS
All the Vapor Cave products that are present in this Category are Concentrated Flavors and therefore different from the Triple Concentration versions. How to prepare Aroma Vapor Cave? Vaporcave Aromas are products to be diluted and not used as they are. These Vapor Cave aromas must be diluted to 30% within the Neutral Base which is composed of Propylene Glycol and Vegetable Glycerin. Once the base has been created, it will be possible to add Nicotine. Once the Neutral Base is ready, simply dilute the Aroma in the right concentration and you will have your Electronic Cigarette Liquid.
Data sheet
Destra