Aspire Zelos Box Mod 50W
Your order will be processed within 24/48 hours

In case of assistance for the product contact the number +39.0623231549
Description
Aspire Zelos Box Mod 50W
Aspire Zelos Box Mod 50W Buy the ZELUS Box from Smo-King, made by Aspire, one of the most famous and practical Electronic Cigarettes to help you quit smoking permanently! The internal battery allows you to safely vape your Electronic Cigarette Liquids one day inside without discharging and with the Nautilus 2 atomizer that fits perfectly with the Battery MOD Zelos.
ZELOS
The smallest and most efficient box mod produced by Aspire. Zelos 50W, compact and ergonomic, small and light, is the latest addition to the Aspire house. It has an internal 2500mAh Li-Po battery, different delivery modes with a maximum output of 50 Watts. Thanks to its compact design and a sturdy frame, which is light to hold, it has a convenient screen rotation function. The battery can be charged through the micro USB port up to 1A. The Nautilus 2 atomizer has a 2ml capacity with great vapor production and flawless aroma.

Zelos 50w supports modes: VV, VW, Bypass and TC. To meet various vaping needs. By pressing the '+' and '-' buttons at the same time, the buttons allow you to select between VW, VV, Bypass and TC (Ni, Ti, SS) modes. Pressing '+' or '-' to select modes, fire button to confirm. Pressing the fire button and '+' button simultaneously locks or unlocks. When the mod is in TC mode pressing the fire button and the '-' button simultaneously re-establishes the initial watt interface.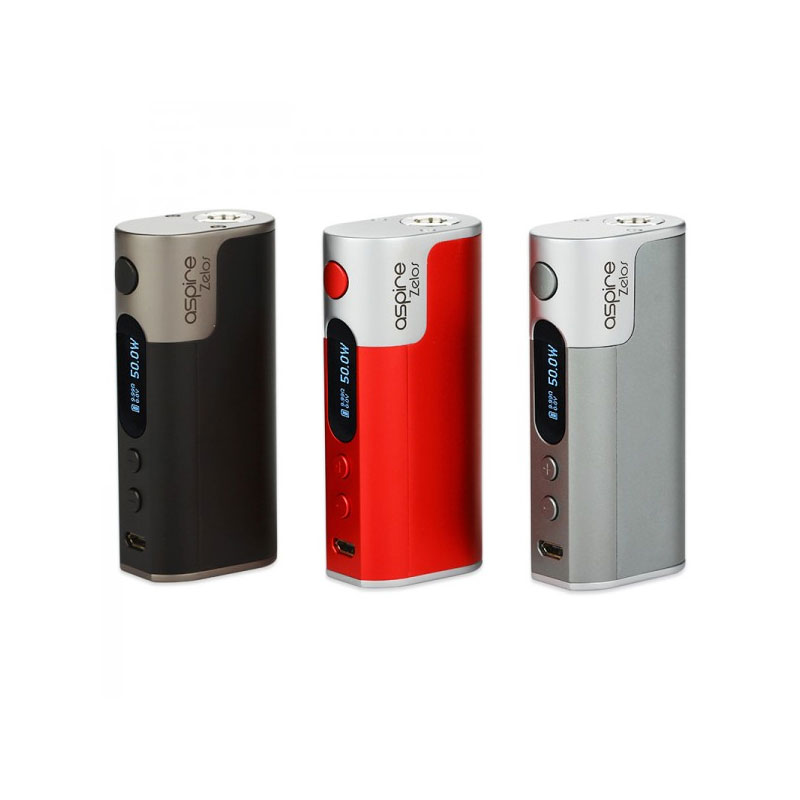 Data sheet
You might also like