BOXX FULL VERSION Complete Kit ASPIRE
COMPLETE KIT BOXX FULL VERSION is an innovative Electronic Cigarette, with an Elegant Design, an All-in-One Box Mod with 3 Atomizers included, the Tank BP, Tank Nautilus and Tank Qbix RBA by Atmizoo, powered by a 18650 battery (not included) made by ASPIRE in collaboration with SUNBOX and ATMIZOO, ideal for quitting smoking, to vape with your favorite Electronic Cigarette Liquid.
Available colors: TUXEDO and QUICK SILVER.
Your order will be processed within 24/48 hours

In case of assistance for the product contact the number +39.0623231549
Description
BOXX FULL VERSION Complete Kit ASPIRE
BOXX FULL VERSION Complete Kit ASPIRE Buy the new Electronic Cigarette All in One version from Smo-King, born from a collaboration between Aspire, Sunbox and Atmizoo in the fantastic COMPLETE VERSION. A Complete Kit including a splendid Box with excellent performances, the surprising Tank Nautilus, the Tank BP and Tank QBIX RBA by Atmizoo; also included a series of Replacement Resistors for each Atomizer. BOXX delivers up to 60W powered by a 18650 battery (not included) and Electronic Cigarette Liquid capacity of 4 ml. A very elegant Electronic Cigarette ideal for Quitting Smoking.
BOXX KIT FULL VERSION
BOXX the Complete Kit with 4ml Nautilus Tank, Qbix RBA Tank and BP Tank, produced by Aspire, SunBox and Atmizoo, a compact Kit that offers the best performance; powered by a single 18650 battery (not included) with a variable power it can deliver up to 60W. Boxx is made of very high quality 316L Stainless Steel, assembled with Materials used in Aerospace construction, to give an even more unique style.
Boxx mod is compatible with a wide range of Coils, with the Amitzoo Qbix RBA Rebuildable Tank, the Nautilus Tank (INCLUDED) it is possible to apply the Nautilus Coil the 1.8Ohm BVC, with the Tank BP (INCLUDED) it will be possible to use the BP Coil like 0.17Ohm BP, 0.3Ohm BP, 1.0Ohm BP and 0.6Ohm BP; finally it is also compatible with Boro Tank and all the accessories of the Billet Box.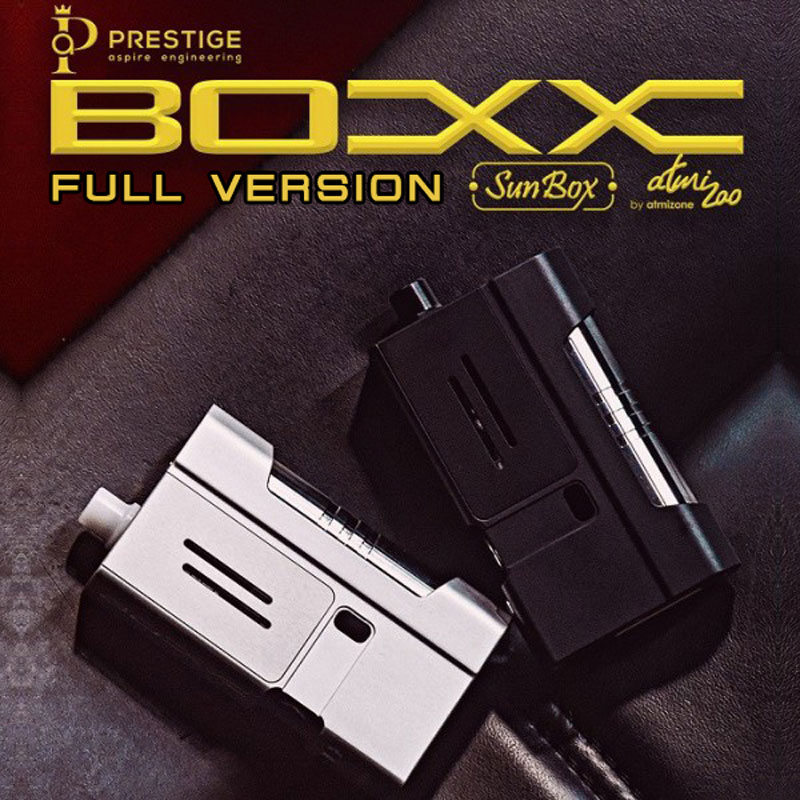 BOXX FULL VERSION FEATURES:
Dimensions (without Drip Tip): 52.5x24x87mm

Weight: 191g

Tank capacity: 4ml

Compatible Resistors: Nautilus Coil and BP Coil

Battery: Single 18650 (not included)

Mode: VW / VV / BYPASS

Power: 1-60W

Voltage: 0.5-8.4V

Resistance: 0.1-3.5Ohm

Display: OLED 0.91 "
INCLUDED IN THE PACKAGE:
1x BOXX Mod (Battery not included)

1x Tank BP for BOXX

1x Coil BP 0.17Ohm

1x Coil BP 0.3Ohm

1x Coil BP 1.0Ohm

1x Coil BP 0.6Ohm

1x Nautilus Tank for BOXX

1x Coil Nautilus BVC 1.8Ohm

1x Coil Nautilus 2S Mesh 0.7Ohm

1x Atmizoo Qbix RBA Tank

1x AFC Adapter (Pre-Installed)

10x AFC Plugs (1x0.8mm, 1x1.0mm, 1x1.2mm, 1x1.5mm, 1x1.8mm, 1x2.0mm, 1x 2.0mm, 1x2.5mm, 1x3.0mm, 1x3.5mm, 1x4.0mm Pre-installed)

1x 510 drip tip adapter

1x Replacement Drip Tip

1x Pack of O-Rings

1x User Manual
Data sheet