iTank Atomizer Vaporesso
iTank the new Tank with 8 ml of Liquid for your Electronic Cigarettes made by Vaporesso. Ideal atomizer for DTL and for vaping your favorite Electronic Cigarette Liquid. Compatible with 0.2Ohm and 0.4Ohm GTi Mesh Resistors. Available in colors: BLACK, GRAY, SILVER AND RAINBOW.
Your order will be processed within 24/48 hours

In case of assistance for the product contact the number +39.0623231549
Description
Z Force Innokin Atomizer
Z Force Innokin Atomizer Buy from Smo-King at the best online price iTank, the new Atomizer made by Vaporesso. A Tank with an Electronic Cigarette Liquid Capacity equal to 8ml supplied with Mesh GTi Resistors of 0.2Ohm and 0.4Ohm, perfect for Quitting Smoking and for a Lung Vape.
ITANK ATOMIZER
iTank is the new Atomizer at Vaporesso, ideal for any Electronic Cigarette with 510 connection, perfect for Pulmonary Vaping. iTank, has a convenient top filling, its strong point is the Turbo Airflow system, which will make the air in the Tank softer; it also has a liquid capacity of 8ml and is supplied with the appropriate resistors, the 0.4Ohm (50-60W) and 0.2Ohm (60-75W) Vaporesso Mesh Coil GTi.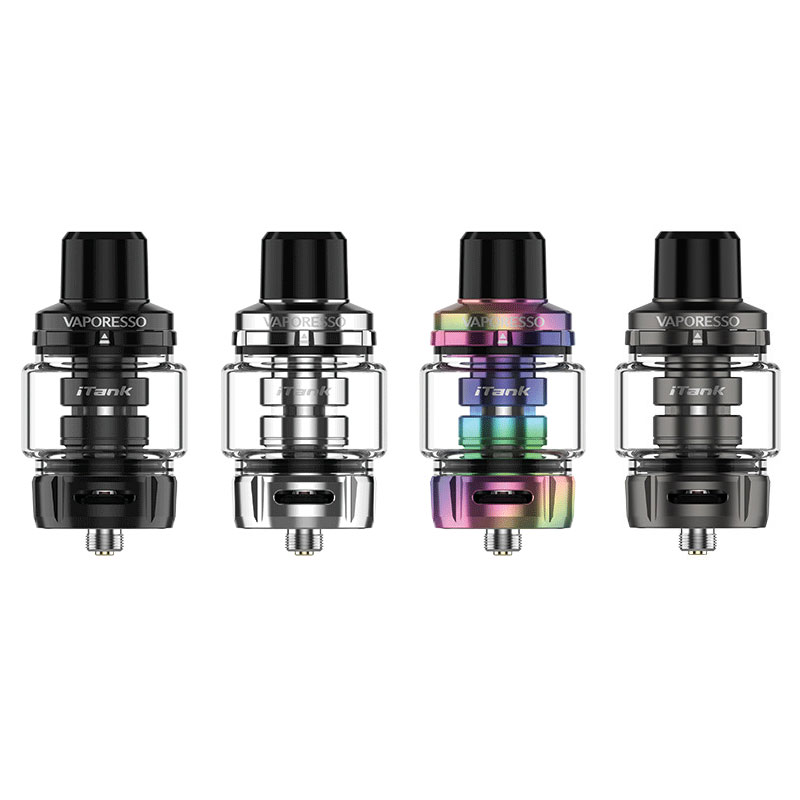 ITANK FEATURES:
Dimensions: 52.5x24.5mm

Liquid capacity: 8 ml

Filling: Superior

Type of Shot: Lung (DL)

Attack: 510

Drip Tip: 510

Resistance: Mesh Coil GTi
INCLUDED IN THE PACKAGE:
1x iTank 8ml Atomizer

1x Mesh Coil GTi 0.2Ohm

1x Mesh Coil GTi 0.4Ohm

1x User Manual
Data sheet