Galactika FULL VG Vegetable Glycerin 45ml in 120ml Bottle
Galactika VG Vegetable Glycerin 45 ml
Available from Smo-king at the best price online the new Vegetable Glycerine made by Galactika in 45 ml format. The best Liquid Glycerine on the market to prepare your Broken Up Liquids so that you can fully enjoy your Electronic Cigarette.
Your order will be processed within 24/48 hours

In case of assistance for the product contact the number +39.0623231549
Description
Galactika VG Vegetable Glycerin 45 ml
Galactika VG Vegetable Glycerin 45 ml Disponibile da Smo-king al miglior prezzo online la nuova Glicerina Vegetale realizzata da Galactika in formato 45 ml. La migliore Glicerina Liquida in commercio per preparare i tuoi Liquidi Scomposti così che potrai goderti a pieno la tua Sigaretta Elettronica. Galactika lancia in commercio la nuova Glicerina Vegetale in formato 45 ml. Una Glicerina 99.8% EP/USP sterilizzata, perfetta per creare dei fantastici Liquidi per Sigaretta Elettronica. La Glicerina Vegetale è un componente fondamentale per potre creare i tuoi Liquidi, è il componente che permette alla Ecig di produrre vapore. Grazie alla Glicerina formula i tuoi Liquidi Scomposti e metti il Turbo ai tuoi Atomizzatori.
GLICERINA VEGETALE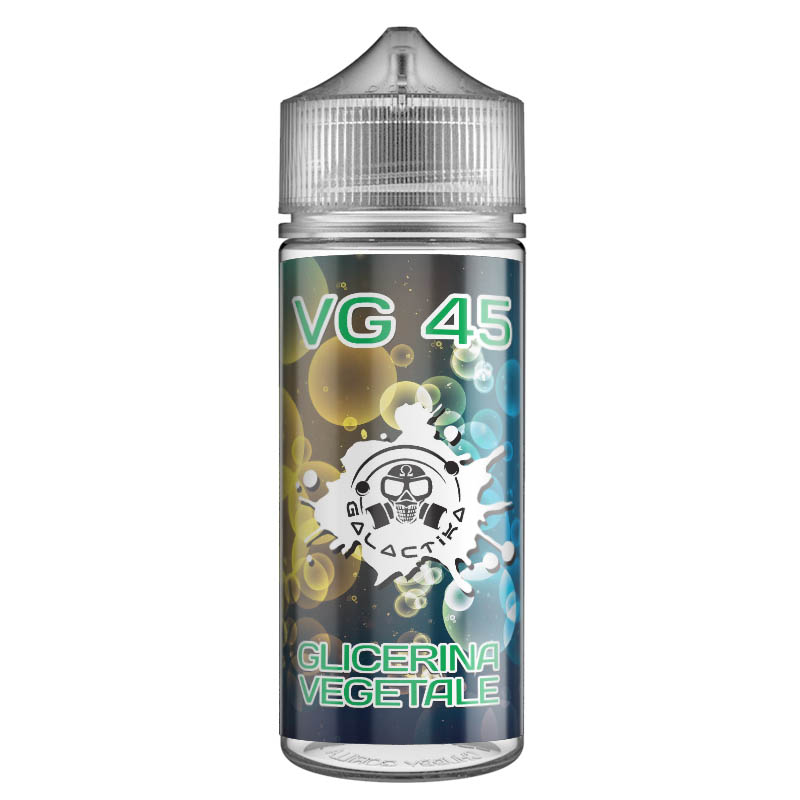 VENDUTA IN BOCCETTA CHUBBY DA 120 ML
La Glicerina è un componente dei lipidi e dei fosfolipidi o glicolipidi, dai quali viene ottenuto per idrolisi o transesterificazione. Quando l'organismo utilizza le sue riserve di grasso, dapprima le scinde in acidi grassi e glicerolo, quest'ultimo viene trasformato nel fegato in glucosio diventando una fonte di energia per il metabolismo cellulare. A temperatura ambiente è un liquido incolore piuttosto denso, viscoso e dolciastro; la presenza di tre gruppi -OH lo rende miscelabile con l'acqua in ogni proporzione. Ricavato industrialmente come sottoprodotto della preparazione del sapone, trova impiego nella produzione di sciroppi, creme per uso farmaceutico e cosmetico, nonché come additivo alimentare, e come prodotto per la creazione di liquidi per sigaretta elettronica identificato dalla sigla E422. È anche un reagente usato nella sintesi di composti organici più complessi. Nel vino conferisce rotondità al sapore. È usato nella produzione dei liquidi per sigarette elettroniche. Il glicerolo liquido è anche impiegato, con 2 parti d'acqua distillata, nella soluzione per macchine del fumo da palcoscenico. Trova inoltre impiego nella produzione della nitroglicerina.

Il glicerolo o glicerina è anche un sottoprodotto della produzione del biodiesel. Fu sintetizzato per la prima volta da Carl Scheele nel 1779. Essendo uno dei principali sottoprodotti della fermentazione alcolica, veniva sintetizzato durante la guerra (fermentando succhi di mela e uva e inibendo la riduzione dell'acetaldeide a etanolo mediante diossido di zolfo).[senza fonte] La glicerina presenta eccellenti proprietà di solubilità per tannini, fenolo e l'acido borico. Se presente in percentuale elevata svolge anche azione conservante e viene a volte aggiunta a soluzioni acquose. L'azione caustica di alcuni composti (ad esempio fenolo e iodio) è minore in soluzione glicerica. A causa della sua viscosità le soluzioni in glicerina si preparano meglio operando a caldo. I gliceridi sono notevolmente igroscopici e debbono quindi essere conservati in recipienti ben chiusi.
Indicazioni: Non ingerire Mantenere il prodotto nella sua confezione integra Mantenere in luogo fresco e asciutto
Data sheet