Uwell Nunchaku Mod 80w
Uwell Nunchaku Mod 80w
Smoking shop online store Specialized Electronic Cigarette; Buy Electronic Cigarettes, Complete Kit, Box Mod, Atomizer, Coil, Accessories for Rebuilding, Rebuildable Atomizers, Rasberry, 18650. Display, Circuit. Immediate Shipment and Secure Payments
Your order will be processed within 24/48 hours

In case of assistance for the product contact the number +39.0623231549
Description
Uwell Nunchaku Mod 80w



Uwell Nunchaku Mod 80w Uwell has finally created one of the most sought after products, an Electronic Tube named Nunchaku. The Nunchaku is powered by a 18650 battery (not included) and comes up to a power of 80w. The producers have been very attentive to both the Design and the Dimensions of this Electronic Tube Cigarette. In fact, although it mounts an Electronic Circuit, it remains compact in size and its Ergonomic Shape allows it to be used comfortably.

In addition to the classic Vari Watt mode, the Nunchaku is also equipped with a Temperature Control dedicated to resistive wires in stainless steel and resistive wires in Nickel. In addition it has a Bypass Mode that will allow you to use the tube without any kind of adjustment. Virtually "The Power of a Mech Mod with the Safety of a Box Mod"

The Nunchaku is also equipped with a USB input for recharging the battery and for a possible future firmware update. We recommend however to recharge the battery through an External Battery Charger.

Features:
Dimensions: Height 94.5mm - Diameter 27.4mm
Weight: 124g
Power: 5W-80W
Voltage: 0.7v-7v
Resistance Range: 0.1-3ohm (VW) 0.1-1ohm (TC) 0.1-0.5ohm (Bypass)
Temperature range: 200-600 ° F / 100-300 ° F

Buy your Charger from our Store.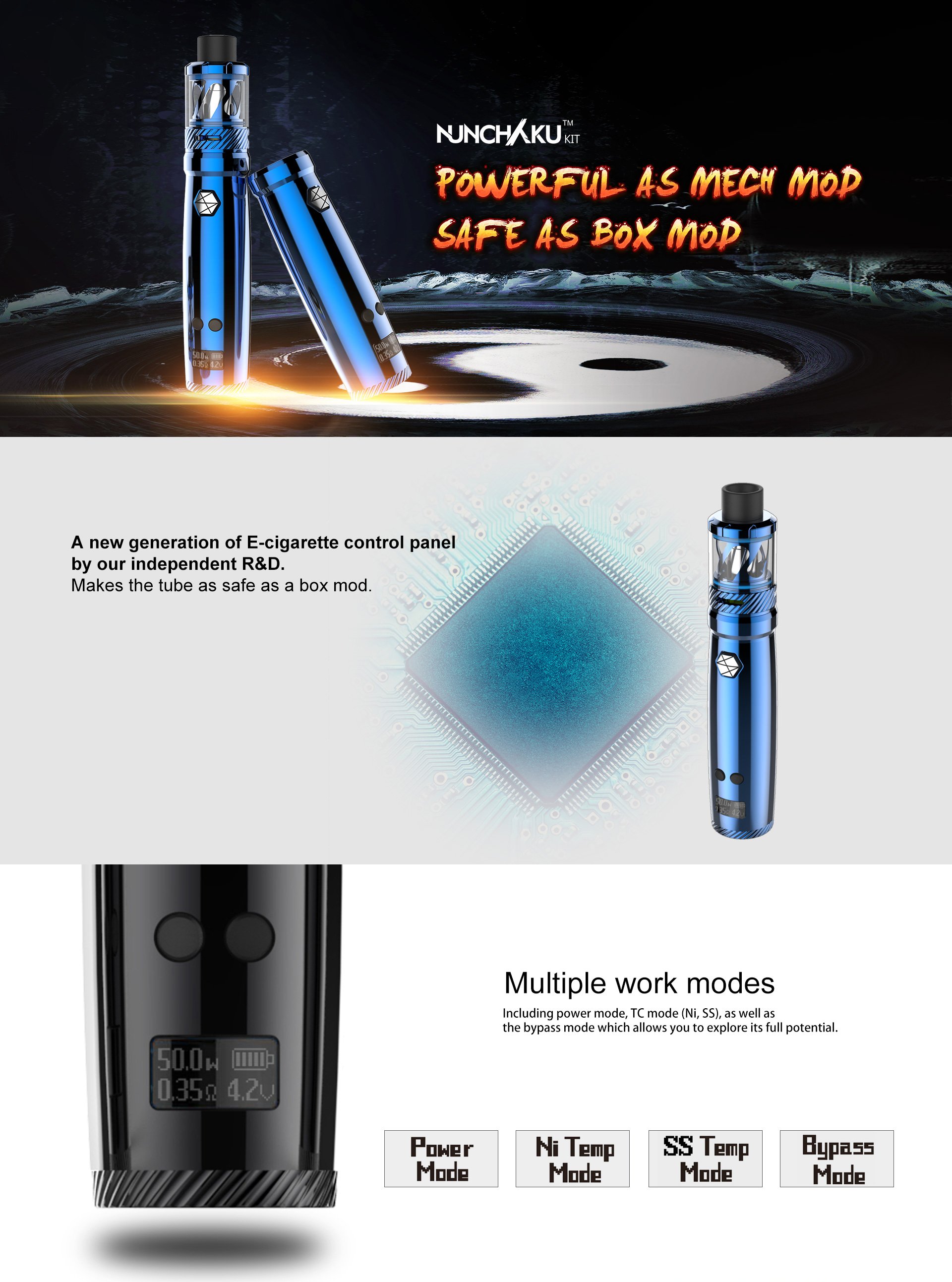 Choose your Liquid for Electronic Cigarette from our Catalog

Data sheet
Destra