DRIP TIP MUM V2 Blackstar
DRIP TIP MUM V2, perfect replacement for your Atomizer, an Accessory made by BLACKSTAR to better enjoy your favorite Electronic Cigarette Liquid. Available in several colors: BLACK DERLIN, PC CLEAR RAW, PC CLEAR POLISHED, TRASPARENT GRAY RAW, TRASPARENT GRAY POLISHED, ULTEM RAW AND ULTEM POLISHED.
Your order will be processed within 24/48 hours

In case of assistance for the product contact the number +39.0623231549
Description
DRIP TIP MUM V2 Blackstar
Buy the Drip Tip Mum V2 from Smo-King, at the best price online, to change the look of your Electronic Cigarette. Many models of mouthpieces in many color variations. Choose your favorite and mount it on your Electronic Cigarettes. They are available in slightly reduced variants, compatible with Atomizers with 510 connection for Vaping your Electronic Cigarette Liquids at best. No Atomizer will remain without.
DRIP TIP MUM V2 REPLACEMENT
The Drip Tip Mum V2 spare parts for 510 Atomizers, produced by BlackStar, incorporate an Anti-Condensation processing at the base, thanks to which they prevent the liquid from rising inside the hole. Mouthpieces suitable and perfect for Quitting Smoking. Available in 7 colors and different materials:
PC Clear Raw

PC Clear Polished

Black Derlin

Ultem Raw

Ultem polished

Trasparent Gray Raw

Trasparent Gray Polished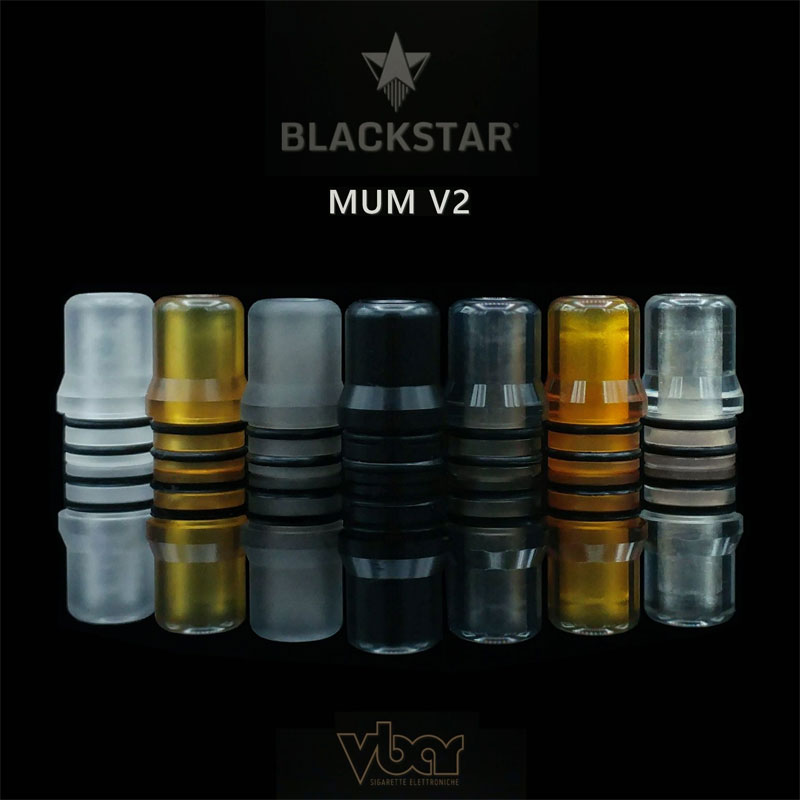 Data sheet
Destra