CBD World CBD ecig liquid 400mg
CBD World CBD liquid 400mg

Buy the decomposed version of CBD Liquids produced by Fumidea on Smo-king now. The new version of their E-Cigarette Liquids is now available. Buy all 3 components to make your CBD liquid for your Electronic Cigarette.
Pack description
CBD World CBD liquid 400mg

CBD World CBD Liquid 400mg The new version of Fumidea CBD Liquids is finally available in our Grow Shop Category. The Classic CBD Liquid has been broken down into 3 Parts to be sold online again. The 400mg CBD World Concentrate is a 20ml Propylene Glycol CBD concentrate. This concentrate will then be diluted with Vegetable Glycerol and Aroma Concentrate to obtain your favorite CBD Liquid. 20ml concentrate in 20ml bottle. With this package you will receive the necessary to create your CBD electronic cigarette liquid.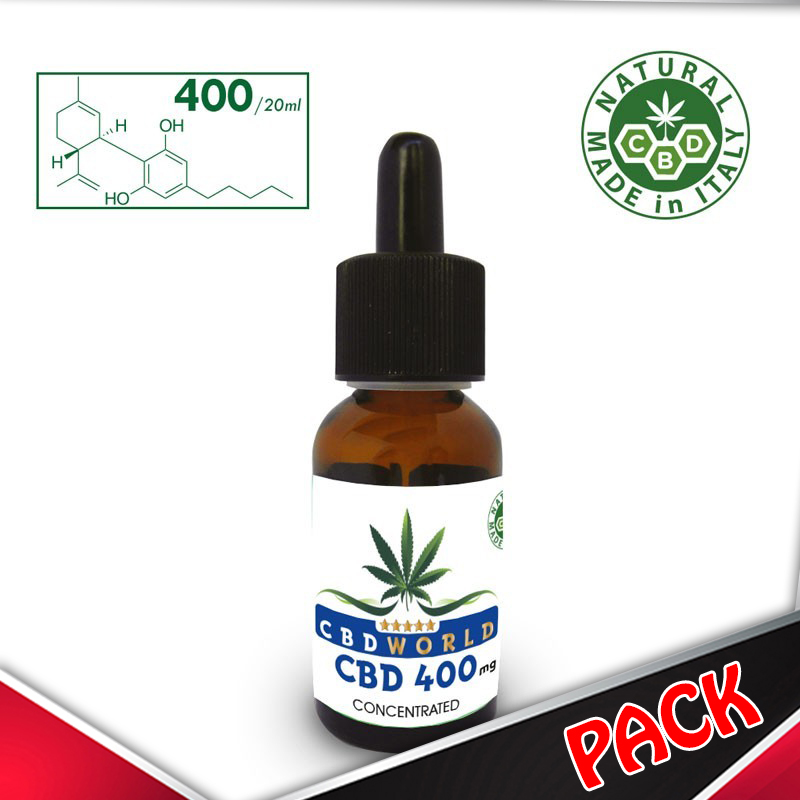 CBD LIQUID ELECTRONIC CIGARETTE

CONTENT OF THE PACKAGE:
CBD World Concentrate 400 mg
CBD World Vegetable Glycerol 10 ml
CBD World Aroma Concentrate Green Skunk 10 ml


INSTRUCTIONS:


- STEP 1 -
Pour all the content of the CBD Concentrate into the 50ml bottle containing 10ml of Vegetable Glycerol.
Close the cap, shake well and leave to rest for 20 minutes.

- STEP 2 -
Pour all the contents of the concentrated Aroma into the freshly prepared 50ml bottle.
Close the cap, shake well and leave to rest for 24 hours.

THE RESULT WILL BE A 40ml LIQUID WITH 400mg / 40ml CBD CONCENTRATION

Do not swallow.
SALE TO MINORS OF 18 YEARS IS PROHIBITED
Keep out of reach of children
Do not disperse in the environment
In case of contact with eyes and skin, wash with plenty of soap and water
If you feel unwell, contact a doctor.
Keep locked up.