ALL STAR COOKIE Aromi 20 ml DREAMODS
The best Electronic Cigarette Liquids in Aroma 20 ml format in 60 ml bottle made by DREAMODS in its new All Star COOKIE Line: MONELLA, STRALIGHT AND VANILLA'S.
Your order will be processed within 24/48 hours

In case of assistance for the product contact the number +39.0623231549
Description
ALL STAR COOKIE Aromi 20 ml DREAMODS
ALL STAR COOKIE Aromi 20 ml DREAMODS Buy from Smo-King at the best online price all the Creamy Liquids made by Dreamods of the Cookie Line, 20 ml Decomposed Aroma format for the most popular Electronic Cigarettes of the moment and in the world of Vaping. Let yourself be conquered by the wonderful and famous Biscuits in Liquid Electronic Cigarettes version, born in the Drea Mods house, ideal for all lovers of Creamy Aromas.
ALL AROMAS DECOMPOSED DREAMODS COOKIE:
COOKIE LINE
CREAMY AROMAS
MONELLA (Nutella Biscuits): A very crunchy shortcrust pastry biscuit with cereals, accompanied by a very sweet Hazelnut Cream.

STARLIGHT (Grisbì Lemon): A soft Shortbread Biscuit contains a velvety filling of Lemon Cream.

VANILLA'S (Oreo Gold): A crunchy golden biscuit wraps a sweet cream of Precious Vanillas inside.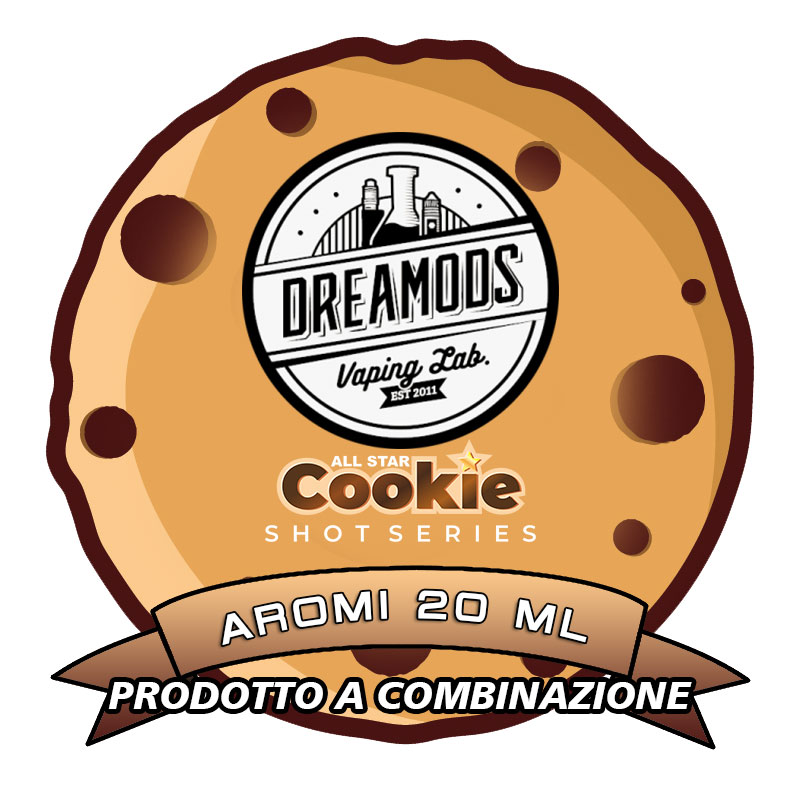 PREPARATION OF DREAMODS DECOMPOSED AROMAS:
DREAMODS decomposed flavors. To obtain the ready liquid it will be necessary to follow certain steps. Being Triple Concentration Aromas, they cannot be Vaped directly but first diluted with 30 ml of Vegetable Glycerin. Once diluted with Liquid Glycerin, Nicotine can also be added to increase its gradation. This process can be done by adding 10ml Bases. In this way you will have prepared your Liquid for Electronic Cigarette and you will be ready to fill your Atomizer.
Data sheet
Destra