Coolfire Z80 LAUNCH OFFER Innokin
LAUNCH OFFER COOLFIRE Z80 ZENITH 2 with Z COIL Free for the first 120 Purchases. INNOKIN celebrates the launch of the COOLFIRE Z80, a Very Elegant Electronic Cigarette, consisting of Box Mod Coolfire Z80 and Zenith 2 Atomizer, with an Elegant and Compact Design, ideal for quitting smoking, to vape with your favorite Electronic Cigarette Liquid.
Available in the colors: LEATHER BLACK, LEATHER WHITE, CLOUDY GRAY and ASH GRAY.
Z COIL (free sample): 1x 0.3Ohm, 0.5Ohm, 0.8Ohm, 1.0Ohm and 1.6Ohm.
Your order will be processed within 24/48 hours

In case of assistance for the product contact the number +39.0623231549
Description
Coolfire Z80 LAUNCH OFFER Innokin
Coolfire Z80 LAUNCH OFFER Innokin Buy from Smo-King the LAUNCH OFFER of the new COOLFIRE Z80 ZENITH 2 Complete Kit made by INNOKIN. To celebrate the Launch of this fantastic Electronic Cigarette, at the first 120 purchases, Innokin has decided to give the Z COILs with the Coolfire Z80 Kit, to try all types of Resistors. COOLFIRE Z80 ZENITH 2 is an Electronic Cigarette with excellent and very elegant performances, where the protagonists are the new Coolfire Z80 Box Mod and the Zenith II Tank with Single 18650 Battery (Not Included) and Liquid Electronic Cigarette capacity equal to 5.5 ml ideal to Quit Smoking.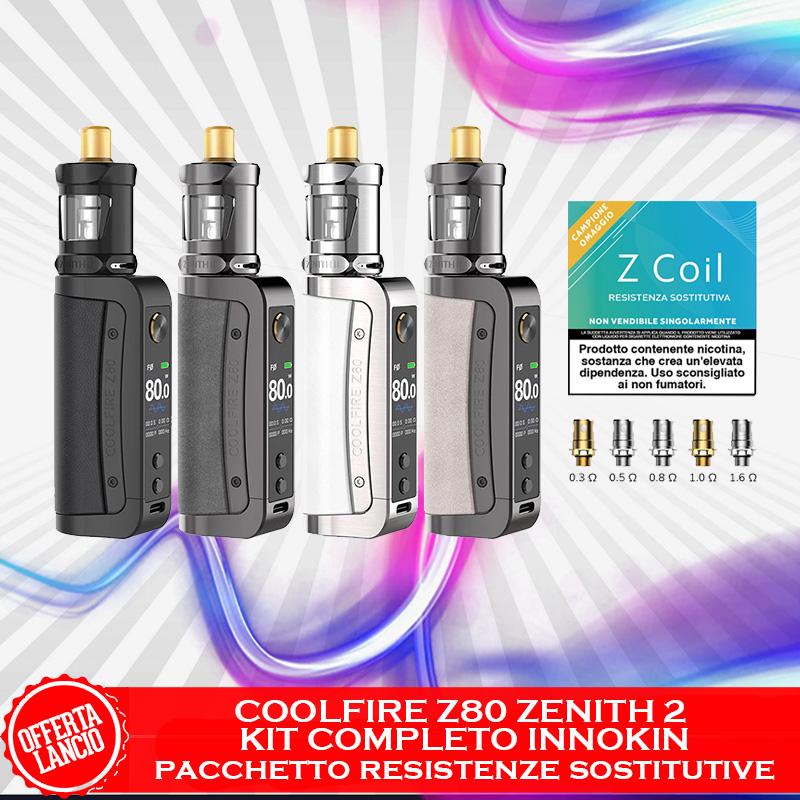 COOLFIRE Z80 ZENITH 2
Coolfire Z80 Zenith 2 is a Complete Kit with excellent performance, made by Cool Fire Z80 Box Mod and Zenith 2 Tank by Innokin. A Complete Kit in Leather and Zinc Alloy with 18650 Battery (Not Included) and a Power of 80W, with Refresh Technology to increase the flavor and duration of the Coil. the Zentih 2 Atomizer has an Electronic Cigarette Liquid capacity of 5.5ml, with precise control of the Air Flow for both MTL and DTL. Compatible with all Zenith Zlide Resistors, the 0.8Ohm and 0.3Ohm Z Coils will be included in the package. The Box supports Fast Charging of the 18650 Battery inside it through USB-C Cable.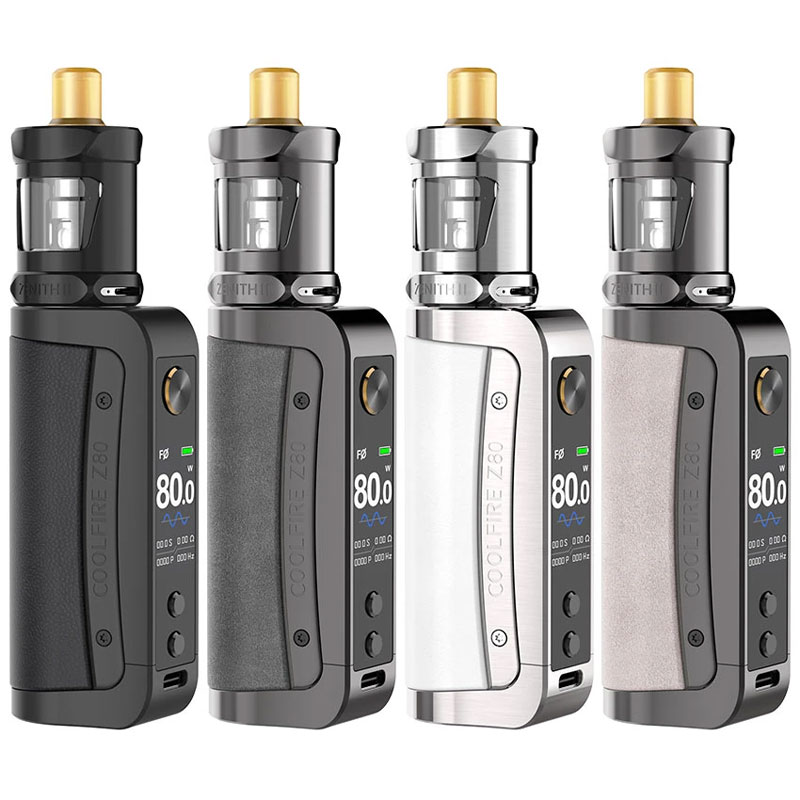 FEATURES COOLFIRE Z80 WITH ZENITH 2:
Box: Coolfire Z80

Atomizer: Zenith 2

Dimensions: 131.75x38.8x27.6mm

Dimensions only Box: 83,55x38,30x27,60mm

Box Material: Zinc Alloy and Leather

Battery: Single 18650 (Not Included)

Liquid capacity: 5.5ml

Filling: Superior

Attack: 510

Display: Color

Charging: USB-C

Power: 6-80W

Voltage: 1-7.5V

Adjustable

Interruption Time: 3 to 18 seconds

Coil compatinili: Zenith Zlide

Resistance range: 0.1-3.5Ohm

Charging Current: 5V / 1.7A

Battery capacity indicator: <20% red, 20% -60% yellow,> 60% green
INCLUDED IN THE PACKAGE:
1x Coolfire Z80 Box Mod (with 18650 Battery NOT INCLUDED)

1x Zenith 2 Atomizer

1x Coil Zenith Zlide 0,8Ohm (Pre-Installed)

1x Coil Zenith Zlide RDL 0.3Ohm

1x Glass Extension Tube (5.5ml)

1x Drip Tip Replacement

1x Replacement O-Ring

1x USB-C cable

1x User Manual
Data sheet