KIWI Electronic Cigarette Kit Limited Edition Kiwi Vapor by La Tabaccheria
ELECTRONIC CIGARETTE KIWI VAPOR POD MOD STARTER KIT by LA TABACCHERIA, in LIMITED EDITION version, with a comfortable Lanyard for the neck and the POWER BANK included in the package, with 1650 mAh battery excellent portable cigarette in Tuscan Brown color, to vape the drip all day long tip with the filter like classic cigarettes will make you vape like a traditional cigarette the battery of the pod is 400 mAh.
Your order will be processed within 24/48 hours

In case of assistance for the product contact the number +39.0623231549
Description
KIWI Electronic Cigarette Kit Limited Edition Kiwi Vapor by La Tabaccheria
Buy the new Limited Edition Kiwi Electronic Cigarette, made by Kiwi Vapor in collaboration with La Tabaccheria, in the new Tuscan Brown color and LaTabaccheria logo engraved on the PowerBank. "KIWI" is the latest generation Pod Mod designed to create an easy-to-use kit within everyone's reach, she is small but with great features that make this new pod mod a Ferrari of this type of ecig. The KIWI in fact comes with a 1650 mAh charging Power Bank, this will allow you to face the day easily without having to rush to charge the battery, The battery of the pod is 400 mAh which will allow you to vape a few cigarettes in peace. Kiwi is a latest generation cigarette that does not produce ash and bad smells, it does not produce smoke, only vapor that reduces the emission of toxic substances by 99% with maximum power from 10w to 13w. The KIWI TUSCAN BROWN supports pharmaceutical grade cotton filters and has included in the package Necklace, that is a very comfortable Neck Strap to carry it always with you.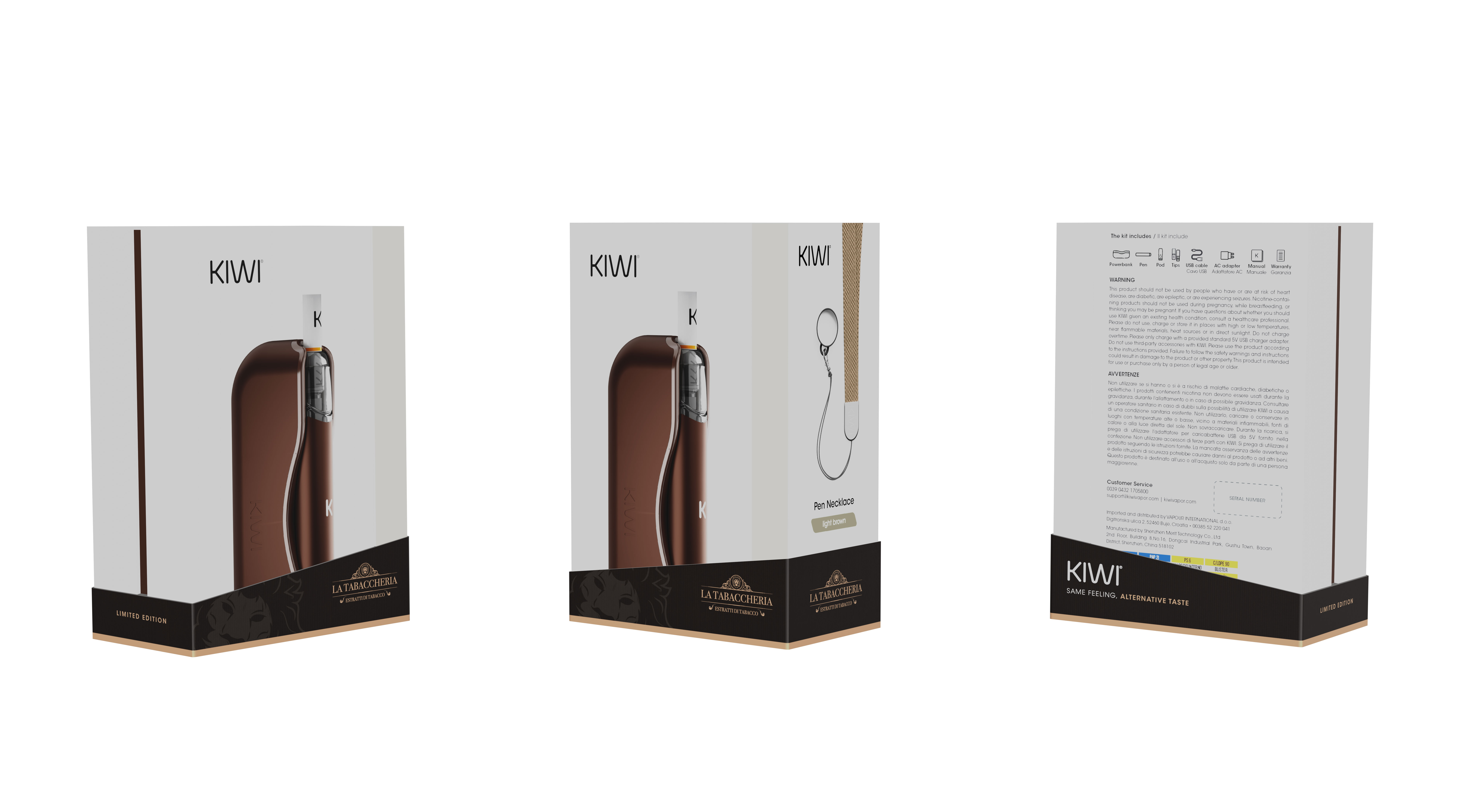 KIWI STARTER KIT TUSCAN BROWN LA TABACCHERIA
This Kiwi Tuscan Brown is the best Starter Kit to start on the market, a Limited Edition version made with La Tabaccheria. In addition to having a particular color, this Complete Kit has engraved on it the famous La Tabaccheria Logo, also unlike the previous edition, including you can also find a Neck Strap, to carry the Pod Mod Kiwi always with you. The Kiwi Electronic Cigarette prepares Soft Touch technology on board the Pod which replaces the classic buttons ensuring hygiene and allowing a much faster use. Kiwi LE Tuscan Brown, is ideal to be used with the brand new Kiwi Electronic Cigarette Liquids by La Tabaccheria.
Data sheet