Orion Mini Pod Mod Lost Vape
Orion Mini is a Pod Mod made by Lost Vape, with an Elegant and Ergonomic Design, with a 3ml liquid capacity and fast recharge through the 800mAh Integrated Battery, ideal for quitting smoking, to vape with your favorite Electronic Cigarette Liquid. Available in the new colors: SILVER CARBON FIBER, BLACK CARBON FIBER, GUNMETAL CRABON FIBER, YELLOW PINE WOOD, BLACK BROWN WOOD AND CLARET RED WOOD.
Your order will be processed within 24/48 hours

In case of assistance for the product contact the number +39.0623231549
Description
Orion Mini Pod Mod Lost Vape
Orion Mini Pod Mod Lost Vape Buy the new Orion Mini from Smo-King, a Pod Mod with a Compact Design, made by LostVape, ideal for MTL vaping, therefore recommended for beginners. Orion Mini is a wonderful and brand new Complete Kit, which unlike the previous Pod Orion has a 800mAh Integrated Battery therefore capable of reaching up to 17W. The Pod Mod Orion Mini is ideal for Quitting Smoking and starting Vaping with your Liquid Electronic Cigarette.
ORION MINI
Orion Mini, is the new Electronic Cigarette made of Zinc Alloy by Lost Vape, with small dimensions, ideal for all-day vaping. Orion Mini Pod has a capacity of 3ml Electronic Cigarette Liquid, with an Integrated 800mAh Battery and a Maximum Power of 17W. A great novelty of this new Orion version is in addition to the size is the Adjustable Air Flow through the Button positioned on the Mod. The Pod is compatible with all UB Mini Coils, including Coil UB Mini S1 0.8Ohm and Coil UB Mini S2 1.0Ohm.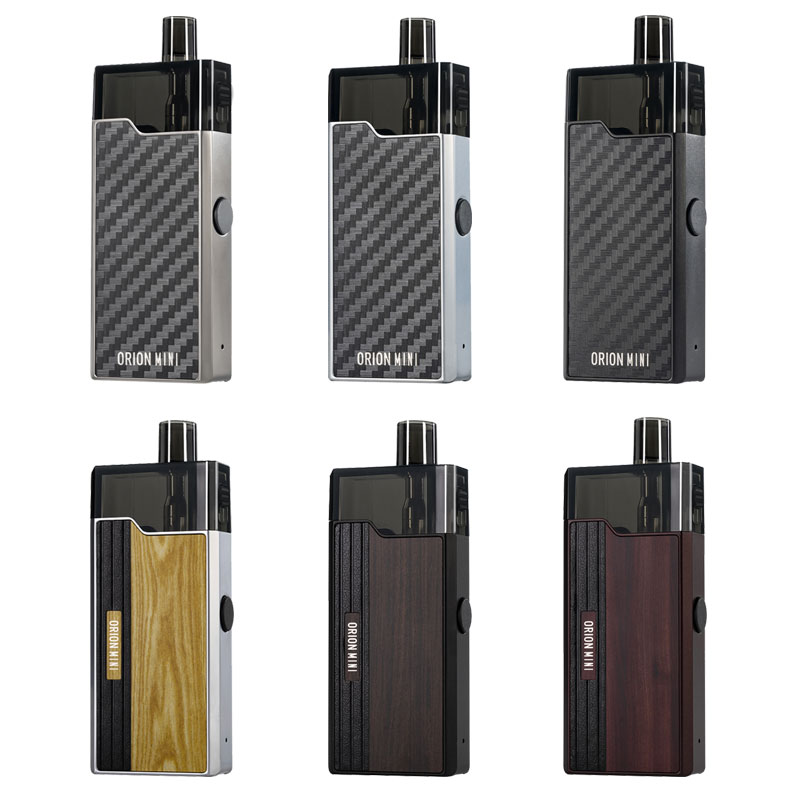 ORION MINI FEATURES:
Dimensions: 34.2x14x88.5mm

Material: Zinc Alloy

Liquid capacity: 3ml

Battery: Integrated 800mAh

Power: 17W

Charging: USB-C 5V / 2A

Vaping: MTL

Reload: Lateral

Coil Integrate: 0.8Ohm and 1.0Ohm

Compatible coils: UB Mini
INCLUDED IN THE PACKAGE:
1x Orion Mini Pod Mod

1x Coil UB Mini S1 0.8Ohm

1x Coil UB Mini S2 1.0Ohm

1x USB-C cable

1x User Manual
Data sheet