CIGAR CLUB 18.7 Aroma 20 ml OFFICINE SVAPO
CIGAR CLUB 18.7 is a Liquid and Electronic Cigarette 20ml Aroma format made by OFFICINE SVAPO, a Tobacco Liquid from the Cigar Club Line. TASTE: KENTUCKY, VANILLA AND COGNAC BODS.
Your order will be processed within 24/48 hours

In case of assistance for the product contact the number +39.0623231549
Description
CIGAR CLUB 18.7 Aroma 20 ml OFFICINE SVAPO
CIGAR CLUB 18.7 Aroma 20 ml OFFICINE SVAPO Available from Smo-King another fantastic Aroma of the Cigar Club line, of the Triple Concentration Tobacco Aromas made by Officine Svapo in 20 ml format. A Line of Liquid Electronic Cigarettes that will take you to discover the world of Cigars, both Italian and Foreign for Electronic Cigarettes.
CIGAR CLUB 18.7
Cigar Club 18.7 is a new Decomposed Aroma in 20 ml in 60 ml format, a Made in Italy with an intense and intoxicating Kentucky taste; aged in cask with vanilla beans and treated with fine Cognac. A Kentucky with alcoholic and vanilla notes, almost imperceptible, a more complex and Rich Kentucky, absolutely to vape.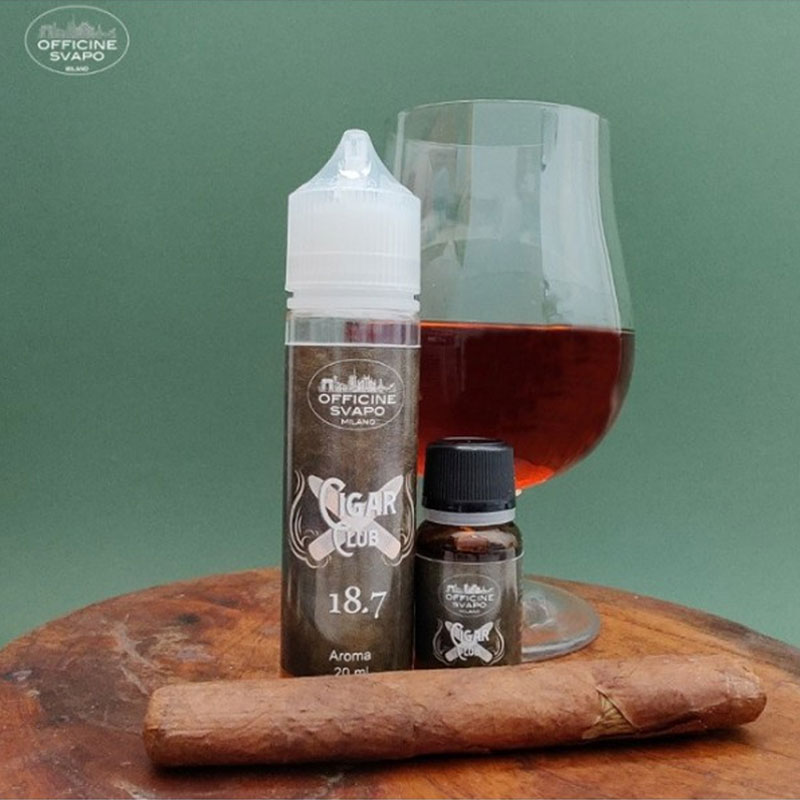 TRIPLE CONCENTRATION AROMA PREPARATION
Cigar Club 18.7 by Officine Svapo is a decomposed aroma. To obtain the ready liquid it will be necessary to follow certain steps. Being a Triple Concentration Aroma it cannot be Vaped directly but first diluted with 30 ml of Vegetable Glycerin. Once diluted with Liquid Glycerin, Nicotine can also be added to increase its gradation. This process can be done by adding 10ml nicotine sideburns. In this way you will have prepared your Liquid for Electronic Cigarette and you will be ready to fill your Atomizer.
Data sheet