TD Custom Luxury Tintoretto Pack
TD Custom Luxury Tintoretto Pack
The new Packs have finally arrived from Smo-king. Combined insertions where you can buy everything you need to create your Electronic Cigarette Liquid with just one click. It will also be possible to choose between 2 different grades of Nicotine (1.5mg and 3mg)
Pack description
TD Custom Luxury Tintoretto Pack
The new Packs have finally arrived from Smo-king. Combined insertions where you can buy everything you need to create your Electronic Cigarette Liquid with just one click. It will also be possible to choose between 2 different grades of Nicotine (1.5mg and 3mg)
LUXURY TINTORETTO
Tintoretto is one of the Electronic Cigarette Liquids that is part of the Luxury family produced by TD Custom. A line where the Tobacco is ennobled by particular and unexpected combinations. In Tintoretto the best Turkish Tobaccos are rounded by a veiled French Cream. The balanced taste is shaken by a delicious Coffee Bean that makes the whole mix even more captivating by giving it a toasted note.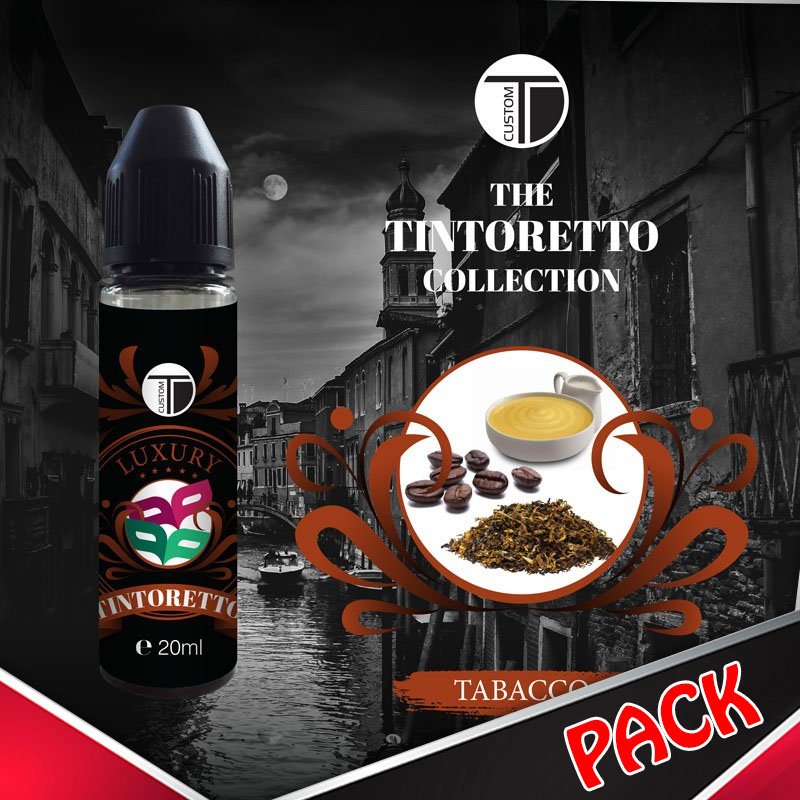 PACK CONTENT
Luxury Tintoretto Triple Concentration Aroma

Galaxy Vape Vegetable Glycerin 30ml

Nic Master Nicobooster (choice)



PREPARATION
Pour the Vegetable Glycerin and Nic Master Nicobooster into the Triple Concentration Aroma Bottle and shake the mixture well.
To prepare a Nicotine Liquid 1.5mg / ml you will need to choose the 9mg / ml Nic Master.
To prepare a Nicotine Liquid 3mg / ml you will need to choose the Nic Master of 18 mg / ml.