The Fam Svapo Family Gruppo Facebook complete pack
The Fam Svapo Family Gruppo Facebook complete pack
Finally the new Packs for your Electronic Cigarette have arrived from Smo-king. Combined advertisements where you can buy with just one click everything you need to create your Electronic Cigarette Liquid. It will also be possible to choose between 3 different grades of Nicotine (0mg, 1.5mg, 3mg)
Pack description
The Fam Svapo Family Gruppo Facebook complete pack
The Fam Svapo Family Gruppo Facebook complete pack Finally the new Packs for your Electronic Cigarette have arrived from Smo-king. Combined advertisements where you can buy with just one click everything you need to create your Electronic Cigarette Liquid. It will also be possible to choose between 3 different grades of Nicotine (0mg, 1.5mg, 3mg)
Smo-King never stops, here is in fact a new flavor for Electronic Cigarette born from a collaboration between Umberto Roccatti, Adriano Di Ianne and Stefano Porcelli. Puff, Smo-King and Svapo Family Group have created The Fam, an aroma with a complex taste that wants to celebrate the Facebook social group Svapo Family Group.

THE FAM



As anticipated, The Fam has a truly complex taste on the electronic cigarette, reminiscent of the Pears and Chocolate Cake, two flavors combined with a sweet and complex base creaminess that returns a Fantastic Aroma. The union between pear and chocolate does not tire, on the contrary, from a pleasant sensation that arises between the bitterness of cocoa and the sweetness of ripe pear. Truly Spatial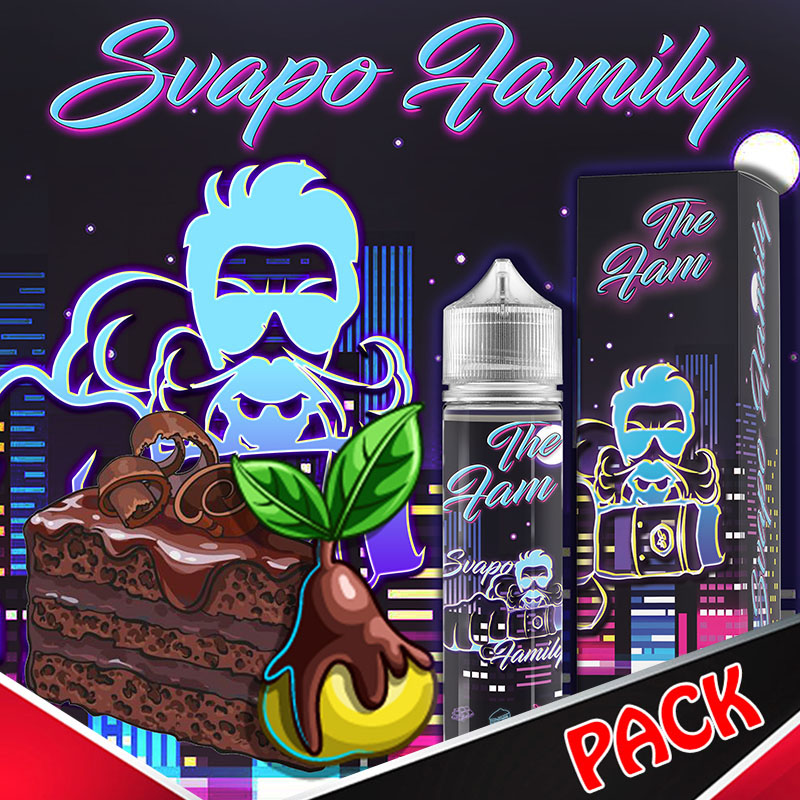 ****** ATTENTION ******
To prepare a Nicotine Liquid 0mg / ml it will be necessary to choose the Nic Master Base from 0mg / ml
To prepare a 1.5mg / ml Nicotine Liquid you will need to choose the 9mg / ml Nic Master Base.
To prepare a 3mg / ml Nicotine Liquid you will need to choose the 18mg / ml Nic Master Base.
PACKAGE CONTENT

     The Fam Aroma 20ml
     Nic Master base 10ml 50/50 (mg of your choice)
     Galactika VG Vegetable Glycerin 30 ml

PREPARATION

Pour the 30 ml galactika vegetable glycerine and the Nic Master Base 10ml 50/50 into the bottle of The Fam liquid, shake the mixture well and you will have obtained your ready liquid.