Starter Kit Pack Lustro & Profile Unity
Starter Kit Pack Lustro & Profile Unity
The new Starter Kit Packs with the best offers on Box Mods and Atomizers for Electronic Cigarettes have arrived from Smo-King. Complete electronic cigarette packages at the best online price with web choices on Hardware to use to vape your favorite electronic cigarette liquids
One of product is no longer available. This pack cant be purchased
Pack description
Starter Kit Pack Lustro & Profile Unity
Starter Kit Pack Lustro & Profile Unity The new Starter Kit Packs with the best offers on Box Mods and Atomizers for Electronic Cigarettes have arrived from Smo-King. Complete electronic cigarette packages at the best online price with web choices on Hardware to use to vape your favorite electronic cigarette liquids
STARTER KIT PACK
By purchasing this package with Asmodus Lustro 200W Box Mod + Wotofo Profile Unity RTA you will receive these two products. The Starter Pack contains products selected and tested by our staff, chosen for their practical use and for their performance in the vaping phase.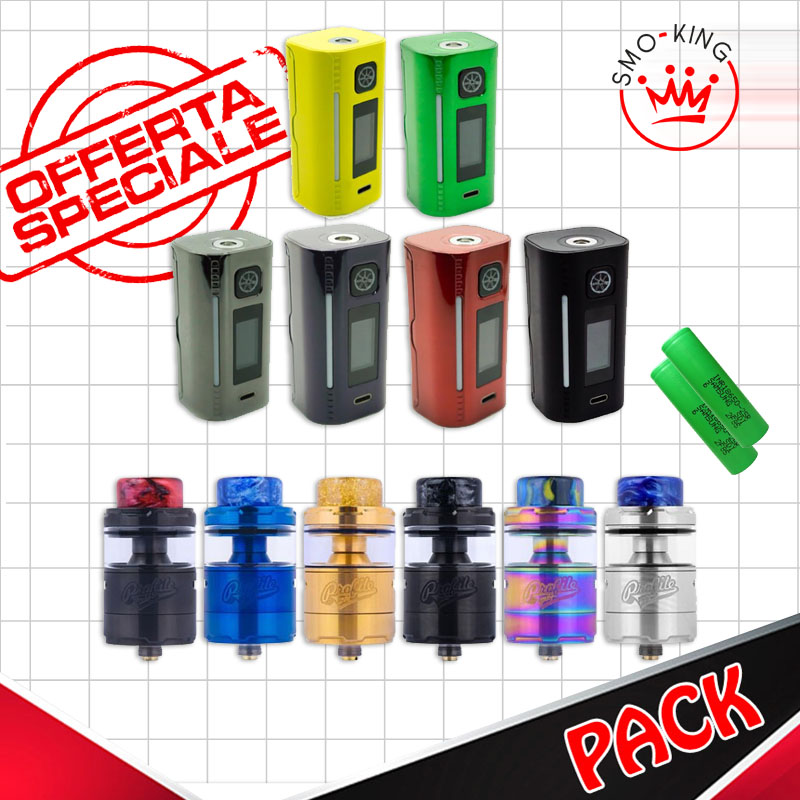 ASMODUS LUSTER 200W BOX MOD

The Asmodus Lustro 200W Box Mod presents multiple innovations and features. The circuit inserted inside is the GX-200-HUT that allows you to use the device and choose the features via the "touch screen", a great transformation for the box mods of this era. In addition to the touch screen that has replaced the old manual keys we are used to, wattage also has its importance. With a maximum of 200 waats and upgradeable firmware this device will leave you speechless. The box requires two 18650 batteries to operate which, of course, are not included in the package.

Aesthetically it has a square design, which makes it practical to use. Do not underestimate the "asmodus" logo on the power button of the mod and on the door where the batteries are inserted.

Easy also from the point of view of use; as only by sliding your finger on the screen you can unlock the device in an instant. To change the wattage just press the "+" or "-" signs depending on the power with which you decide to vape.

In addition, the brightness can be adjusted together with the temperature and power.
Product Specifications:

Requires 2x 18650 size batteries (not included)
Touch screen type: capacitive screen;
Power range (Power mode): 5W - 200W
Power range (TC mode): 5W - 120W
Temperature control range: 212 ° - 572 ° F / 100 ° - 300 °
Atomization range ohm: 0.1 - 2.5 ohm
Maximum output voltage: 7.5 V
Wrong output current: 45A
Charging parameters: DC 5V / 1A
Upgradeable firmware
PROFILE UNITY RTA

From Smo-King this Wotofo Profile Unity RTA Atomizer born from a collaboration of Wotofo, MrJustRight1 and The Vapor Chronicles started with the passion and suggestions of customers from all over the world after the success for the Profile RDA with mesh. It has a new Drip Tip and an Extraordinary Aromatic Yield. Electronic Cigarette Liquids will take on new life leaving you amazed.

Profile Unity RTA is a Tank Atomizer with Coil a Mesh with a very good Aromatic yield of your Liquids for Electronic Cigarettes, easy to refill from above and regenerate thanks to the mesh coils sold by the manufacturer and the precut cotton. Supplied with two slides to increase the tank capacity from 3.5 ml to 5 ml. Highly adjustable and lateral air flow. It has a 25mm diameter with 510 connection to be mounted on your Box Mod.