PROMO FLASH Doric 20 Complete Kit Voopoo
PROMO FLASH of the Doric 20 Complete Kit in Ice Blue color made by Voopoo, Smo-King offers 15 Pod Mods, at the best online price. Doric 20 is a Complete Kit also with a Minimal and very Elegant Design, with 1500mAh Integrated Battery and ITO Pod system with 2ml Electronic Cigarette Liquid capacity; perfect for MTL Vaping.
Your order will be processed within 24/48 hours

In case of assistance for the product contact the number +39.0623231549
Description
PROMO FLASH Doric 20 Complete Kit Voopoo
PROMO FLASH Doric 20 Complete Kit Voopoo Buy from Smo-King the wonderful Doric 20 Complete Kit made by Voopoo in the Ice Blue color, a small and non-slip Pod Mod, ideal for beginners, but also for the more experienced thanks to its excellent performance. A Promo Flash with the fantastic Voopoo Doric 20 Pod Mod, powered by a 1500mAh Internal Battery, which has a Compact and Elegant Design, with 2ml ITO Pod System and two Resistors included in a 1.0Ohm and 1.2Ohm package. Perfect for vaping Electronic Cigarette Liquids in MTL.
DORIC 60
Doric 20 Pod Mod, is a very light Complete Kit, Small with a Minimal Design, suitable for those looking for a space-saving solution with excellent performance, mounts a 1500mAh battery and can deliver a maximum power of 18W, adjustable on 3 different levels. The new ITO Pod is mounted above the Mod, with a 2ml liquid capacity, compatible with all ITO resistors. Included in the package are two Coils, a 1.0Ohm ITO-M2 and a 1.2Ohm ITO-M3. An Electronic Cigarette also suitable for beginners, perfect for Quitting Smoking, the Shot can be set either manually via the fire button, or automatic, it also has an innovative infinite Air Flow system to help Vapers pass more easily from DTL to MTL.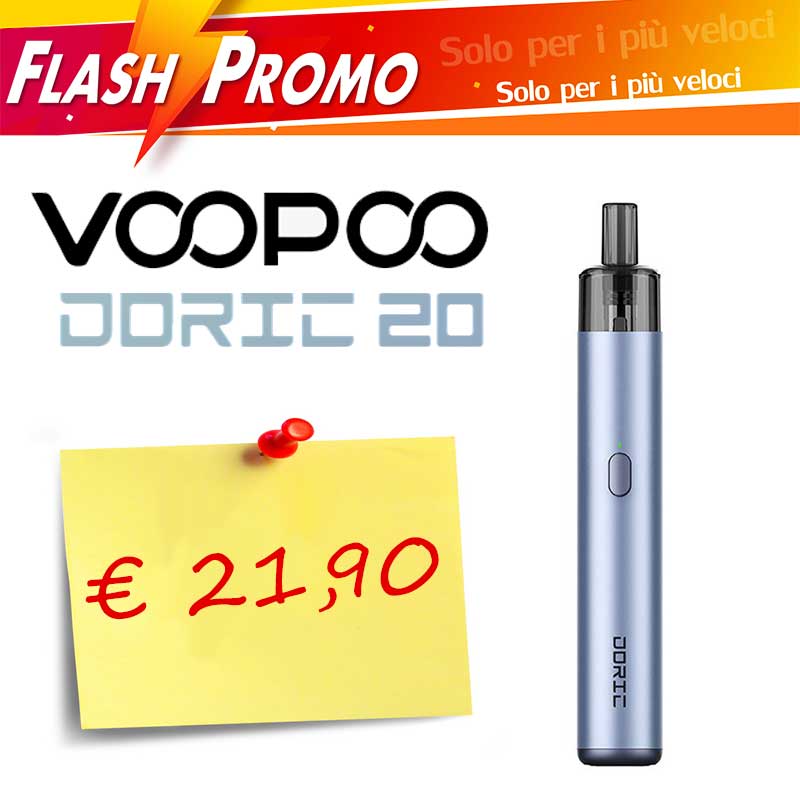 DORIC 60 FEATURES:
Diameter: 124x19mm

Battery: Integrated 1500mAh

Power: 8-18W

Liquid capacity: 2ml

Resistance Range: 0.7-1.2Ohm

GENE chip

Material: Zinc Alloy

Compatible with ITO Resistors

Liquid Refill: Lower

Resistors Included: 1.0Ohm, 1.2Ohm

Charging: USB-C

Shot Type: MTL Cheek Vape
INCLUDED IN THE PACKAGE:
1x Doric 20

1x 2ml PnP Pod

1x 0.2Ohm ITO-M2 Coil

1x Coil ITO-M3 0.3Ohm

1x USB-C cable

1x User Manual
Data sheet
You might also like