Biscuit Love Aroma 10 ml Valkiria
Biscuit Love is the best Creamy and Greedy Electronic Cigarette Liquid, 10 ml Concentrated Aroma format made by VALKIRIA. TASTE: VANILLA COOKIE WITH COCONUT AND PINEAPPLE.
Your order will be processed within 24/48 hours

In case of assistance for the product contact the number +39.0623231549
Description
Biscuit Love Aroma 10 ml Valkiria
Biscuit Love Aroma 10 ml Valkiria Buy the new Flavors made by VALKIRIA from Smo-King, which this time makes its debut with these fantastic 10 ml Concentrated Flavors. Electronic Cigarette Liquids absolutely to vape with your Electronic Cigarette. Fruity, Tobacco, Creamy and Ice Aromas, in 10 ml format, for Electronic Cigarettes and for a special Vape. Aromas absolutely to try with your favorite Electronic Cigarette.
AROMA BISCUIT LOVE

Aroma Biscuit Love is a Creamy and Sweet Liquid, made by Valkiria. A Love of Biscuit, gentle and creamy with Vanilla with delicious Coconut and Pineapple.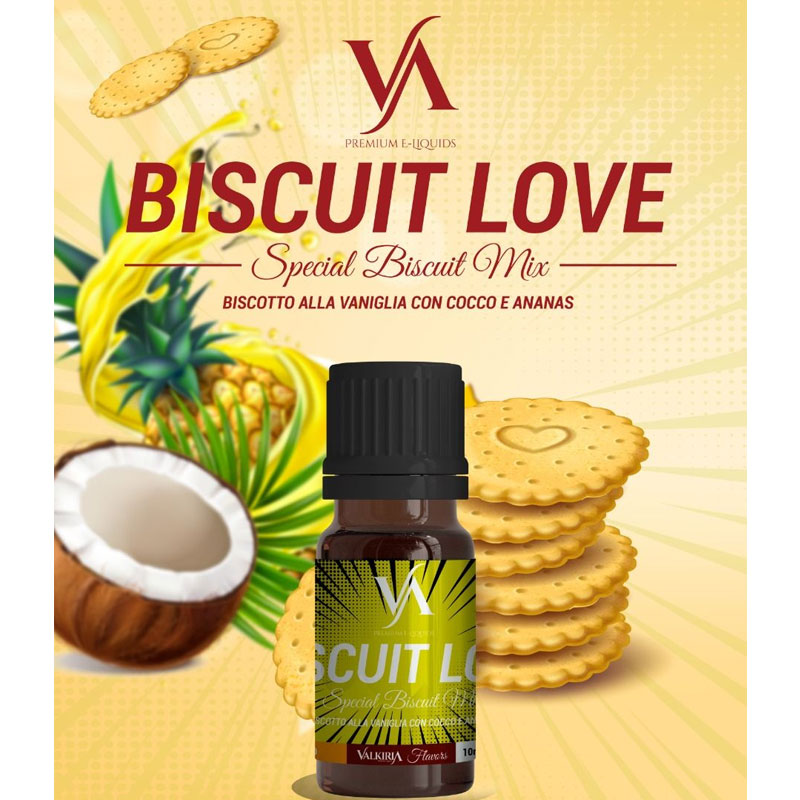 PREPARATION OF CONCENTRATED AROMAS VALKIRIA
All VALKIRIA products within this category are Concentrated Flavors and must therefore be diluted with the Neutral Base to obtain your Electronic Cigarette Liquid. After making your neutral base, just add Nicotine, if desired, and then dilute the Concentrated Aroma in the recommended doses.
Recommended dilution: 10-15%
Data sheet