Lost Mary BM3500 Marybull Usa e Getta 3500 Puff Elfbar
Lost Mary BM3500 is the brand new Disposable Cigarette made by Elfbar, a very powerful device with 3500 Puff and 650mAh Battery, easily rechargeable via USB-C; Vape pen with 0mg/ml Nicotine and 10.5ml of Marybull Ice Electronic Cigarette Liquid. TASTE: ICED ENERGY DRINK.
Imposta di Consumo Inclusa
Your order will be processed within 24/48 hours

In case of assistance for the product contact the number +39.0623231549
Description
LOST MARY BM3500 by Elfbar Disposable Cigarette Marybull

Lost Mary BM3500 Marybull Usa e Getta 3500 Puff Elfbar Buy the new Elfbar Disposable Cigarette from Smo-King; Lost Mary BM3500 is an innovative Disposable Vape, which stands out from all the simple Disposables, in addition to its particular square shape, this Vape pen has a 650mAh Integrated Battery rechargeable via USB-C. Disposable Ecig perfect for Quitting Smoking, with 10.5 ml of Pre-Loaded Electronic Cigarette Liquid at 0mg of Nicotine. This Elf Bar Electronic Cigarette is the best choice for daily vaping, which allows you to easily use it up to 3500 puffs, therefore ideal for starting vaping and for cheek vaping.
LOST MARY BM3500 MARYBULL

Lost Mary BM3500 Marybull is the new Disposable Electronic Cigarette born in the Elfbar house, a completely different design from the other Elf Bars with a large tank and a lot of Battery Autonomy, with its 10.5ml of Fruity and Fresh Liquid preloaded in the Pod and a maximum of 3500Puff. A Disposable Cigarette of 0mg/ml of Nicotine, Vape Pen with the refreshing and sparkling taste of the famous Super Fresh Energy Drink.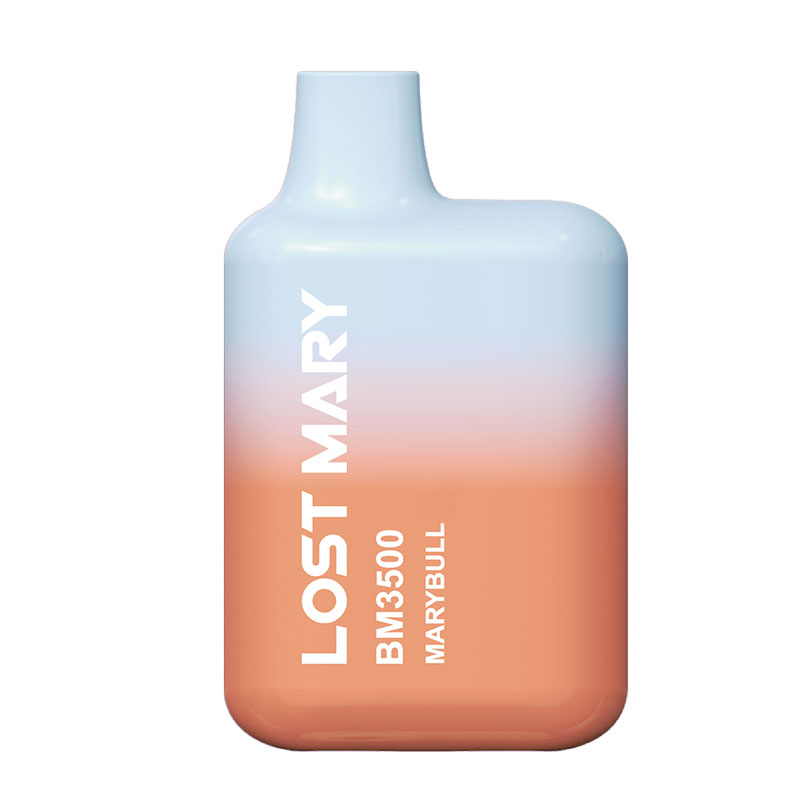 Data sheet