Wenax K1 SE Pod Mod Geekvape
WENAX K1 SE the new even lighter Complete Kit, made by Geekvape, Pod Mod version (32g), perfect and ideal for Quitting Smoking and starting Vaping Liquid Electronic Cigarette. Available in many colors: BLACK, RED, BLACK GOLD, BLACK GRAY AND PINK GREEN.
Your order will be processed within 24/48 hours

In case of assistance for the product contact the number +39.0623231549
Description
Wenax K1 SE Pod Mod Geekvape
Wenax K1 SE Pod Mod Geekvape Buy the Wenax K1 SE Complete Kit from Smo-King, produced by Geek Vape, it is a classic Electronic Cigarette; very simple to use, designed for beginners, but with excellent Aroma performance. Designed for a smooth flavor of your E-Cigarette Liquid to be used with both MTL Cheek Shot and DTL Lung Shot. Recommended for Smokers who want to Quit Smoking and enter the world of Vaping.
WENAX K1 SE COMPLETE KIT
WENAX K1 SE is a fantastic ultra-light Complete Kit of only 32g in the Pod Mod version, which mounts an Integrated Battery of 600mAh and a liquid capacity of 2ml. A Compact and Ergonomic electronic cigarette, ideal for starting Vaping, with a Design similar to the previous one, but unlike the previous Wenax K1, only the Automatic Shot remains, totally eliminating the Fire button. Being a Pod Mod it must be used with its Replacement Pods, with power automatically adjusted according to the resistance that is detected; including the Pod with 1.0 Ohm Coil, but also compatible with all Wenax K1 Pods.th 0.8Ohm or 1.2Ohm resistance.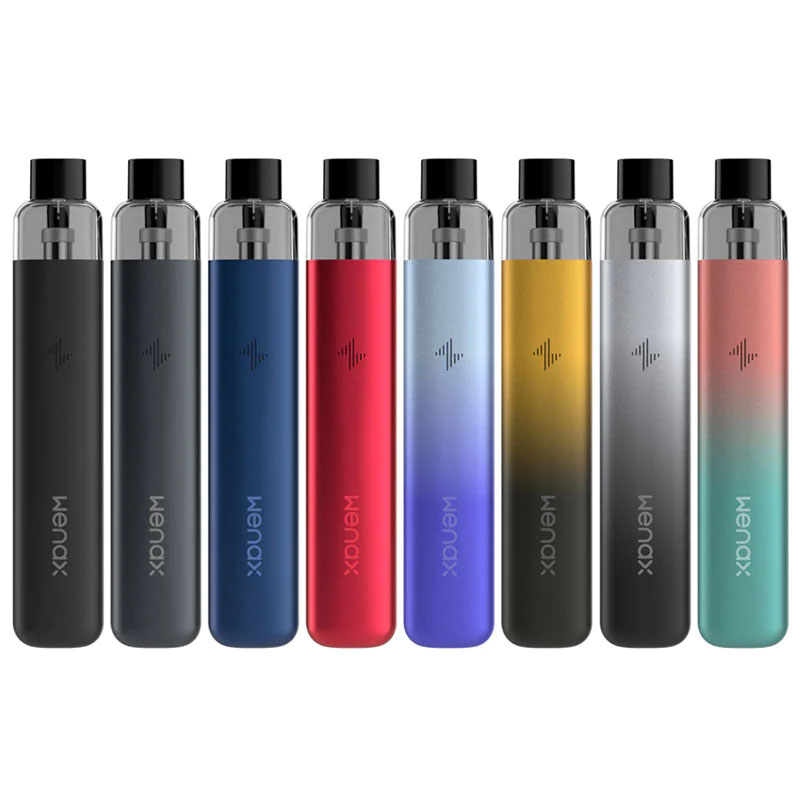 Data sheet