B60 Aegis Boost 2 Complete Kit 60W Geekvape
B60 Aegis Boost 2 is an Electronic Cigarette, with a Compact and Elegant Design, Box with Integrated 2000mAh Battery, in the updated and improved version of the previous Aegis Boost, made by GEEKVAPE, ideal for quitting smoking, to vape with your Liquid Electronic Cigarette favorite. Available in colors: BLACK, SILVER, GOLDEN RED AND BOTTLE GREEN.
Your order will be processed within 24/48 hours

In case of assistance for the product contact the number +39.0623231549
Description
B60 Aegis Boost 2 Complete Kit 60W Geekvape
B60 Aegis Boost 2 Complete Kit 60W Geekvape Buy the B60 known as Aegis Boost 2 from Smo-King, a new updated version of the famous Aegis Boost Electronic Cigarette, made by GeekVape, with a Compact and Ergonomic Design. B60 is a fantastic and innovative Complete Kit with 2000mAh Integrated Battery and can reach up to 60W. The Aegis Boost 2 is a Pod Mod, ideal for Quitting Smoking and starting Vaping the Electronic Cigarette.
B60 AEGIS BOOST 2
B60 Aegis Boost 2, is an updated Complete Kit, with 2000mAh Integrated Battery rechargeable via USB-C and maximum power output of 60W. Like all Aegis versions, this one also has Tri-proof Technology upgrades to the second generation, with IP68 certification, which allows it to withstand Heat, Cold, Water, Shock and Dust. The AS 3.0 Chipset inside, will provide you with 2 modes of use, the SMART mode, which will automatically recognize the inserted Resistance, adjusting the Power, and the BOOST mode, able to improve and maximize the Aromatic Yield. In addition, this B60 has the A-Lock system, which will protect you from unwanted switching on; finally, the Aegis B60 Pod has an Electronic Cigarette Liquid capacity of 5ml; compatible with all Geekvape B Series Coil Resistors, including the 0.6Ohm B Coil (15-25W) and the 0.2Ohm B Coil (50-58W).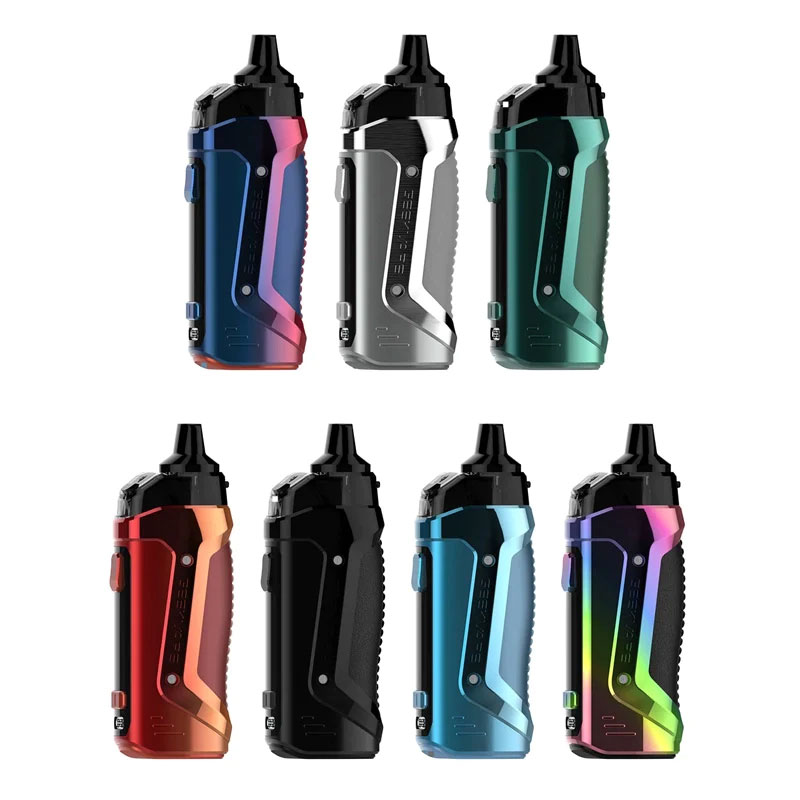 Data sheet