IWIK MAX Pink Lemonade 950mAh Disposable Cigarette 2500 Puff
IWIK MAX Pink Lemonade flavor is the new Disposable Cigarette with Mesh Technology and with about 2500 Puffs and 950mAh Integrated Battery, 0mg/ml Vape Pen and 6.5ml of Electronic Cigarette Liquid. TASTE: RED FRUIT LEMONADE.
Imposta di Consumo Inclusa
Your order will be processed within 24/48 hours

In case of assistance for the product contact the number +39.0623231549
Description
IWIK MAX Pink Lemonade Battery 950mAh Disposable Cigarette 2500Puff
IWIK MAX Pink Lemonade 950mAh Disposable Cigarette 2500 Puff Buy the new line of disposable cigarettes IWIK MAX from Smo-King; this American Cigarette is a Disposable Vape with 950mAh Integrated Battery capable of offering an autonomy of 2500 puffs. Disposable Cigarette perfect for Quitting Smoking, performing and practical with 6.5 ml of Pre-Loaded Liquid at 0mg, for everyday Vaping. This IWIK MAX Electronic Cigarette is also the brand new alternative to the Traditional Cigarette and is the best choice for the ideal daily Vaping to start Vaping and for MTL Vaping, without the need for any maintenance.
IWIK MAX PINK LEMONADE POD MOD DISPOSABLE
Iwik MAX Pink lemonade is a Disposable Electronic Cigarette with 6.5 ml of Fruity and Fresh Liquid preloaded in the Pod, which guarantees 2500Puff. A 0mg/ml Disposable Cigarette, a sweet mix with the summer taste of a fresh Lemonade flooded with Red Fruits.
A super novelty of this IWIK MAX Cigarette is the Rapid Cooling with Mesh Technology which will donate:
INSTANT VAPORIZATION - Heating and vaporization times are halved thanks to the architecture of the resistance.

THICK VAPOR CLOUDS - Uniform heating can produce dense and thick clouds of vapor.

BROAD FLAVOR PROFILE - The vapor tends to be cooler and delivers an unprecedented flavor profile.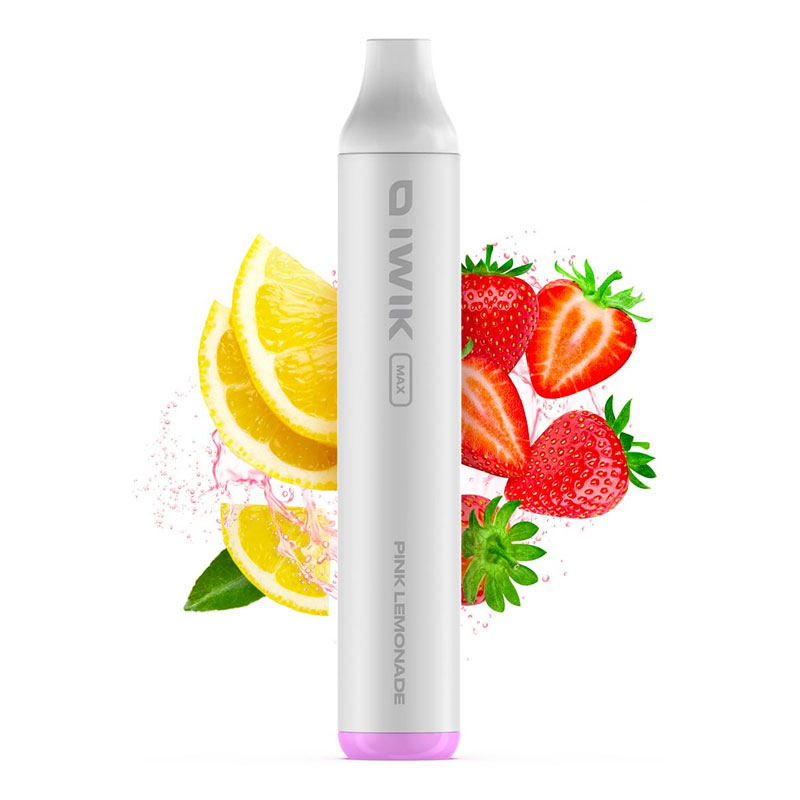 Data sheet