Lik Bar Double Tab 500mAh Disposable Cigarette 600 Puff Suprem-e
Lik BAR Double Tab is a Disposable Cigarette with about 600 Puffs and 500mAh Integrated Battery made by Suprem-e, Vape pen with Nicotine Salts at 0mg/ml and 20mg/ml and 2ml of Electronic Cigarette Liquid. Finally the well-known tobaccos of the Suprem-e lines land on LIKBAR! DISPOSABLE 7-CUE CARD. TASTE: CUBAN CIGAR WITH ROUND NOTES.
Imposta di Consumo Inclusa
Your order will be processed within 24/48 hours

In case of assistance for the product contact the number +39.0623231549
Description
LIK BAR Disposable Cigarette 500mAh

DOUBLE TAB

flavor 600 Puff by Suprem-e
Lik Bar Double Tab 500mAh Disposable Cigarette 600 Puff Suprem-e Buy the new Lik Bar Disposable Cigarette from Smo-King made by the famous manufacturer Suprem-e; this American Cigarette is a Disposable Vape with 500mAh Integrated Battery that guarantees about 600 puffs, which will offer you abundant, fresh and rich flavor vapor. Disposable Cigarette perfect for Quitting Smoking, small in size, performing and practical with 2 ml of Pre-Loaded Liquid with Nicotine Salts at 20mg to be vape at 2%, for everyday vaping. This Lik Bar Electronic Cigarette by Supreme is the newest alternative to the Traditional Cigarette and is the best choice for the daily Vaping ideal to start Vaping and for Vaping Cheek, without the need for any maintenance.
LIK BAR DOUBLE TAB

POD MOD DISPOSABLE
Lik Bar Double Tab is a Disposable Electronic Cigarette with 2ml of Tobacco Liquid preloaded in the Pod with about 600Puff. A Disposable Cigarette of 0mg/ml and 20mg/ml of Nicotine Salts, Vape Pen Double Tab by Suprem-e gives a very pleasant Cuban cigar sensation accompanied by round and satisfying notes.
DOUBLE LIK BAR DISPENSING MODE
The Double Delivery Mode is a real novelty in the world of Disposable Vaping, in fact the Lik Bar Technology allows you to take advantage of 2 delivery modes, based on the type of suction that is used.
Cheek Shot: the typical shot from a Traditional Cigarette, where the delivery is delicate and less airy.
More intense shot: a shot that allows you more air flow in the intake, so as to make it airy and open.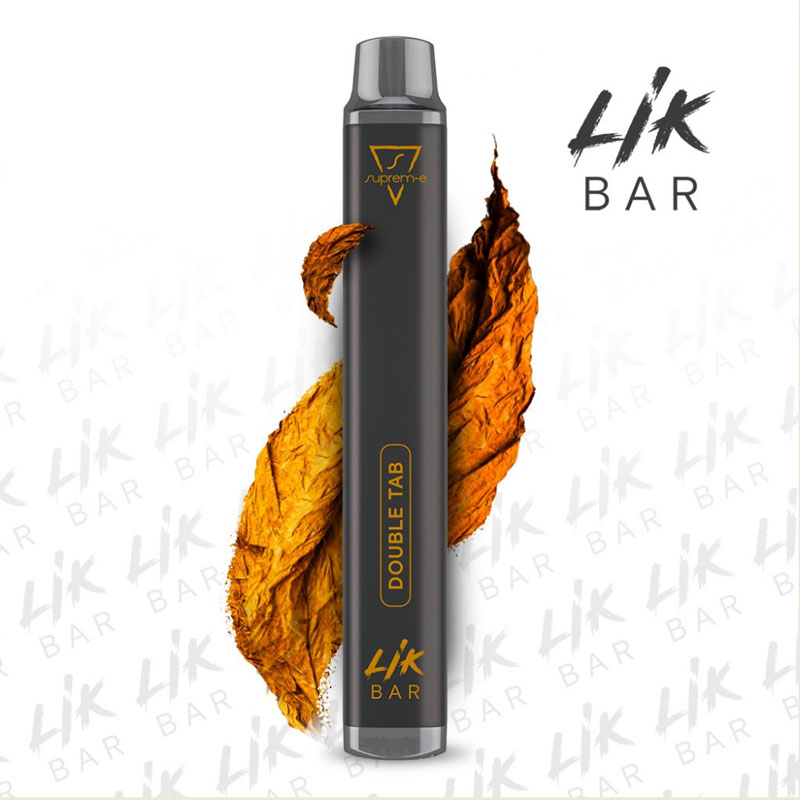 Data sheet