Tabacco Aromatico Distillati 10 ml Nicotine Ready Liquid Vaporart
Aromatic Tobacco is an Electronic Cigarette Liquid Nicotine Ready Liquid format 10ml made by Vaporart, in the brand new and special Microfiltered Distillate Tobacco Line.
TASTE: DISTILLED TOBACCO AND ITALIAN CIGAR.
AVAILABLE IN DIFFERENT GRADATIONS OF NICOTINE: 0 mg / ml, 4 mg / ml, 8 mg / ml and 14 mg / ml nicotine.
Imposta di Consumo Inclusa
Your order will be processed within 24/48 hours

In case of assistance for the product contact the number +39.0623231549
Description
Tabacco Aromatico 10 ml Nicotine Ready Liquid Vaporart

Tabacco Aromatico 10 ml Nicotine Ready Liquid Vaporart Buy the brand new Electronic Cigarette Liquids from the Microfiltered Distilled Tobacco Line made by Vaporart from Smo-King. Ready Liquids 10ml result of a long research work based on the most advanced extraction techniques of distillation in purity, this line in fact has the characteristic of not leaving residues on the resistances, extending the life of your Coils. Tobacco liquids for both experts and beginners, perfect to be Vaped with your favorite Electronic Cigarette.
LIQUID AROMATIC TOBACCO
Aromatic Tobacco is a TPD Liquid made with Microfiltered Tobacco Distillates by Vaporart. The Aromatic Tobacco is a pure tobacco distillate with notes of Italian cigar, extracted in purity.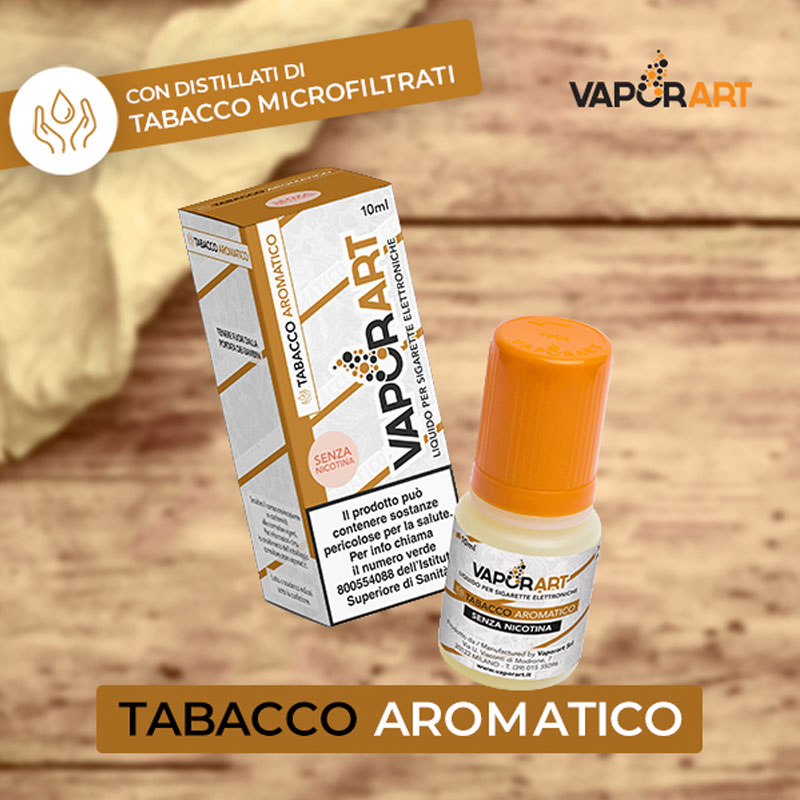 WARNINGS
Plastic bottle with childproof cap
Product with nicotine
Read carefully the use rules.
Do not swallow.
NOT FOR SALE TO THE MINORS OF YEARS 18
Keep out of reach of children
In case of contact with eyes and skin, wash with plenty of water and soap
If you feel sick, contact a doctor.
Keep locked up.
Data sheet