Mini Beeper Pod Mod Wizvapor
Mini Beeper is a Pod Mod made by Wizvapor, with a Compact Design, which takes us back to the 90s, recalling the famous Pager; Mini Beeper has a 3.5ml liquid capacity and fast recharge through the 1200mAh Integrated Battery, ideal for quitting smoking, to vape with your favorite Electronic Cigarette Liquid.
Available in the colors: BLUE SUNSHINE, MINT PINKER, OLD SCHOOL BLACK, VINTAGE PURPLE, WHITE WAVE and WIZ 01.
Your order will be processed within 24/48 hours

In case of assistance for the product contact the number +39.0623231549
Description
Mini Beeper Pod Mod Wizvapor
Mini Beeper Pod Mod Wizvapor Buy the new Mini Beeper from Smo-King, a 90s Design Pod Mod, made by Wizvapor, very light that recreates the style of a pager. Mini Beeper is a wonderful and brand new Complete Kit, powered by a 1200mAh Integrated Battery therefore capable of reaching a maximum of 24W. The Pod Mod Mini Beeper is ideal for Quitting Smoking and starting Vaping with your Liquid Electronic Cigarette.
MINI BEEPER

Mini Beeper, is the new Electronic Cigarette made in PC by Wizvapor, with small dimensions and very light, ideal for all-day vaping. Mini Beeper Pod has included 2 Replacement Pods (one of 0.8Ohm and one of 1.2Ohm), with a capacity of 3.5 ml Electronic Cigarette Liquid, with an Integrated 1200mAh Battery. The Maximum Power is 24W, but adjustable through the 1.7-inch OLED Display, with 6 different power modes and 10 Adjustments to customize the Flavor. A great novelty of this Pod Mod that recharges quickly via USB-C 5V / 2A cable.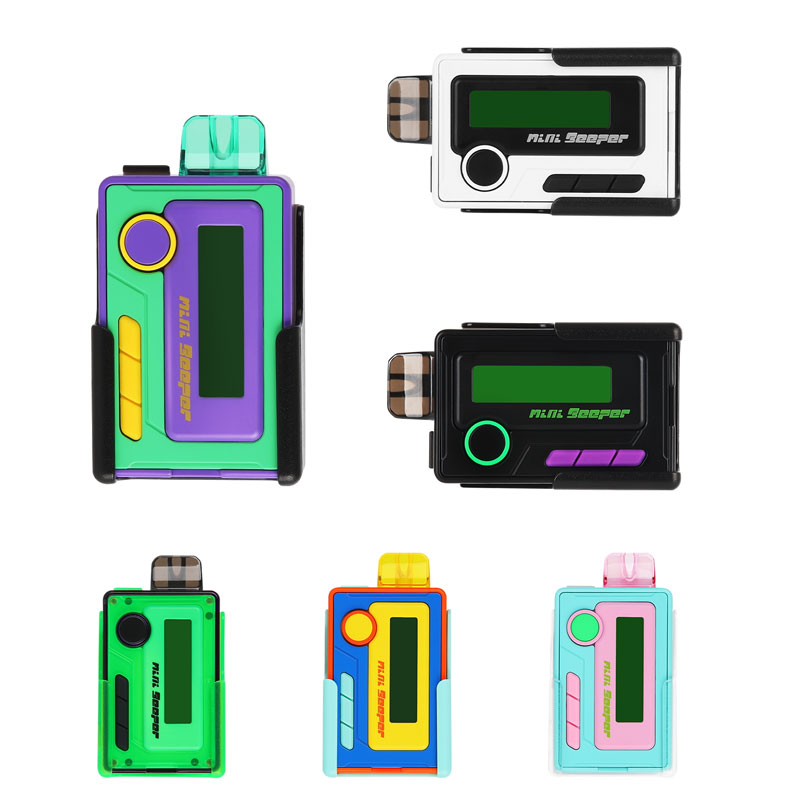 MINI BEEPER FEATURES:
Dimensions: 47x74x20mm

Weight: 66g

Material: PC

Liquid capacity: 3.5ml

Battery: Integrated 1200mAh

Power: 24W

Screen: 1.7 "OLED

Charging: USB-C 5V / 2A

Integrated Pod: 0.8Ohm and 1.2Ohm
INCLUDED IN THE PACKAGE:
1x Mini Beeper Pod Mod

1x Replacement Pod 0.8Ohm

1x Replacement Pod 1.2Ohm

1x Belt Clip

1x USB-C cable

1x Sticker

1x User Manual