ARENA Nicotine Ready Liquid 10 ml REAL FARMA
ARENA is a 10ml Nicotine Ready Liquid and Electronic Cigarette made by REAL FARMA. TASTE: DRY TOBACCO AND LICORICE ROOT.
AVAILABLE IN DIFFERENT GRADATIONS OF NICOTINE: 0 mg / ml, 4 mg / ml, 9 mg / ml and 18 mg / ml nicotine.
Imposta di Consumo Inclusa
Your order will be processed within 24/48 hours

In case of assistance for the product contact the number +39.0623231549
Description
ARENA Nicotine Ready Liquid 10 ml REAL FARMA
ARENA Nicotine Ready Liquid 10 ml REAL FARMA Buy the new Electronic Cigarette Liquids from Smo-King, made Real Farma by TNT Vape. Liquid Tobacco, recreated in TPD format, after the great success of the Arena in Aroma format. The Real Liquids will continue to satisfy all the most demanding Vapers and will surprise those who have not yet vaped them on their Electronic Cigarette. Choose your favorite Nicotine gradation and fully enjoy your Electronic Cigarette Liquid inside your Atomizer.
LIQUID ARENA
Arena made by Real Farma is a 10 ml Nicotine Ready Liquid ideal for Quitting Smoking. A Tobacco Liquid Electronic Cigarette, with the unmistakable flavor of strong Tobacco, strong and delicate at the same time, rich in the finest essences of Tobacco leaves, a balanced mix thanks to the aftertaste of Licorice root.
TASTE: DRY TOBACCO LEAVES WITH LICORICE ROOT AFTERTASTE.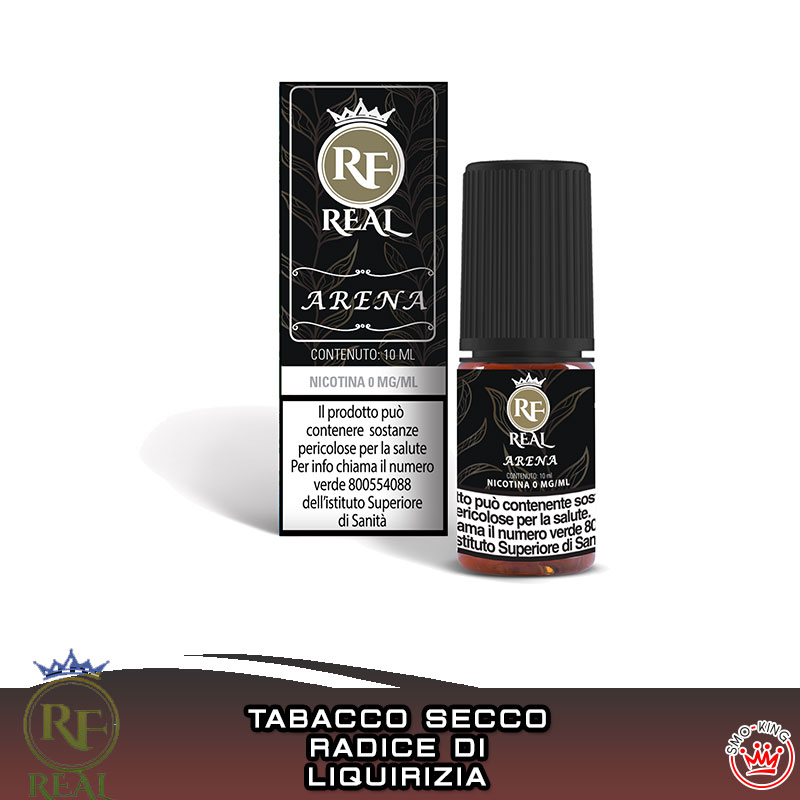 WARNINGS
Plastic bottle with childproof cap
Product with nicotine
Read carefully the use rules.
Do not swallow.
NOT FOR SALE TO THE MINORS OF YEARS 18
Keep out of reach of children
In case of contact with eyes and skin, wash with plenty of water and soap
If you feel sick, contact a doctor.
Keep locked up.