THE ROOK Mesh Atomizer The Vaping Gentlemen Club
THE ROOK the new Mesh Atomizer that can turn into Cotton for your Electronic Cigarettes made by The Vaping Gentlemen Club. Great atomizer for vaping your favorite Electronic Cigarette Liquid.
Your order will be processed within 24/48 hours

In case of assistance for the product contact the number +39.0623231549
Description
THE ROOK Mesh Atomizer The Vaping Gentlemen Club
THE ROOK Mesh Atomizer The Vaping Gentlemen Club THE ROOK is a fantastic Mesh Atomizer, contained in a beautiful wooden box that enhances and emphasizes its value also as a collector's item, made by The Vaping Gentlemen Club, to start this new year 2021 in the best possible way, it is defined as an RPGA (Rebuildable Professional Genesis Atomizer) .A Turret Atomizer for Electronic Cigarettes that contains many types of Atomizers: A Mesh Genesis, a Cotton RDTA, a Full Size Atom and also a Nano Atomizer, thanks to its multiple replacement accessories.
THE ROOK
THE ROOK, made of 316L Steel, with sandblasting that, in addition to giving an elegant appeal, also guarantees optimal electrical and fluid-dynamic properties, created by The Vaping Gentlemen Club is a tribute to the old school of slow steam from which it takes up, updating them, the concepts of the first Genesis to Mesh and allowing the conversion in RDTA to cotton fed by our Xylema (tubes included). Both modes, mesh and cotton, can also be used in the Bottom Feeder in the short version. A Tower Atomizer that was born after 19 months of gestation, by far the longest time that an Atomizer has ever asked us to see the light. This fantastic Atomizer in the Standard version has a Tank with an Electronic Cigarette Liquid capacity of 3.7 ml, while in the 1.5 ml Nano Version.
The equipment is completed by a "21 Soulless", our drip tip, in an original version with three terminals that differ in shape and materials: Amber, Pearly Brown Methacrylate and Pearly Green Methacrylate.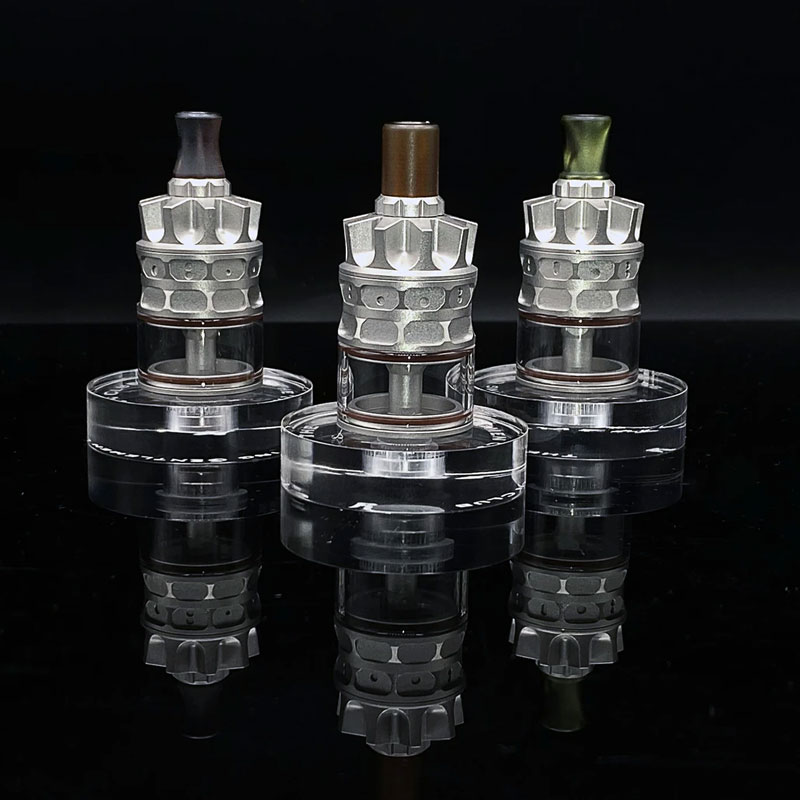 Data sheet