Vapcell INR18650 25A 2600mAh 18650
Vapcell INR18650 25A 2600mAh 18650
Buy the best 20700 Battery for your Electronic Cigarette from Smo-king. Produced by Vapcell this new Battery for Electronic Cigarettes guarantees a continuous discharge with high performances. Perfect for your Mechanical Mod and also for all your Electronic Box.
local_shipping FREE Shipping to Italy for orders with higher price than 49.90€ shipped with GLS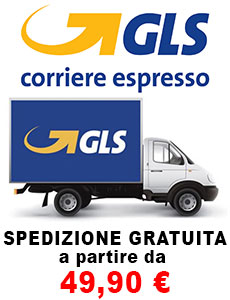 Your order will be processed within 24/48 hours

In case of assistance for the product contact the number +39.0623231549
Description
Vapcell INR18650 25A 2600mAh 18650
Vapcell INR18650 25A 2600mAh 18650 The Vapcell INR18650 rechargeable battery is the latest cell produced by Vapcell. Like all other Vapcell Batteries this battery is designed to work best within electronic devices. Unlike the others, this battery is distinguished by the high discharge amp. This battery has a continuous discharge of 25A to operate perfectly all the electronic cigarettes that require a high discharge power. This battery is equipped with 2600mAh of charge that guarantee a high durability in all your Electronic Cigarettes.

VAPCELL 18650 DESCRIPTION:
The Vapcell 18650 Battery This Vapcell INR18650 is made of a chemistry of iron phosphate and lithium rechargeable. The INR Battery Chemistry is extremely stable and can provide more power than all other types of battery and in addition guarantees an extreme accuracy in the charging phase.

Do not have a battery charger suitable for 18650? Visit our SECTION to find the one that's right for you.

Vapcell Battery Features:
Dimensions: 18650
Chemistry: Li-ion (INR)
Voltage: 3.6V
Capacity: 2600mah
Max Current: 25A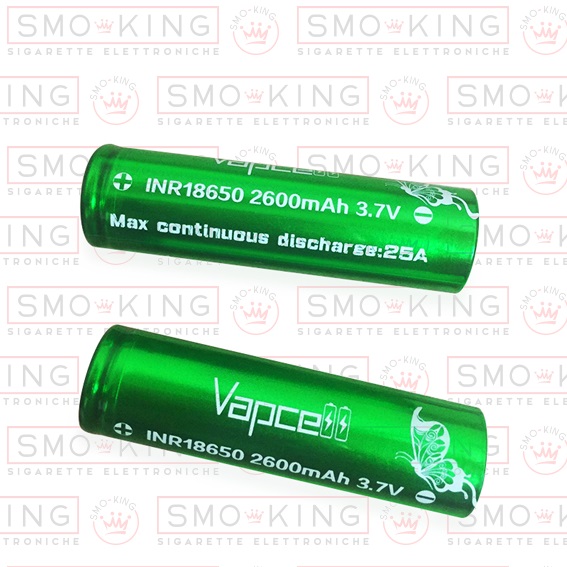 WARNING
Warning Instructions for Use:
The user must have adequate knowledge of lithium ion batteries before purchase. Use caution when working and using lithium ion batteries as they are very sensitive to charging characteristics and may explode, burn or cause fire if used improperly or mishandled. Always load inside or on a fireproof surface. Never leave the battery unattended. This battery is sold for the use of system integrations with appropriate protection circuits or battery packs with a battery management system or PCB (board / module). The buyer is responsible for any damage or injury caused by improper use or improper use of lithium ion batteries and chargers. Charge only with a smart charger designed for this specific type of lithium ion battery.

Misuse or poor handling of lithium ion batteries may result in a SERIOUS RISK of personal injury, property damage or death

        BATTERIES CAN EXPLODE, BURN OR CAUSE A FIRE IN CASE OF MEASURE OR MISHANDLED
        Use ONLY with adequate protection circuits
        Use ONLY within the manufacturer's specifications
        DO NOT store in your pocket, bag, etc. - always use a protective case
        KEEP AWAY from metal objects to avoid short circuits
        Do not short-circuit
        DO NOT use if the casing or insulator is damaged or torn
        DO NOT use if damaged in any way
        DO NOT overload or over discharge
        DO NOT modify, disassemble, puncture, cut, crush or incinerate
        DO NOT expose to liquids or high temperatures
        DO NOT solder
        The user must be familiar with handling lithium ion batteries before purchase
        The use of batteries is AT YOUR OWN RISK


Local laws and regulations regarding the recycling and disposal of lithium ion batteries vary so that you can consult your local jurisdiction regarding appropriate disposal. Many retail stores offer free recycling of rechargeable batteries.
Data sheet