Recurve V2 RDA Wotofo Atomizer
RECURVE V2 RDA the new Rebuildable Tank, the updated version of the famous Recurve for your Electronic Cigarettes made by Wotofo in collaboration with Mike Vapes. RDA atomizer excellent for best vaping your favorite Electronic Cigarette Liquid. Available in various colors: BLACK, GUNMETAL, STAINLESS STEEL, BLUE, GOLD AND RAINBOW.
Your order will be processed within 24/48 hours

In case of assistance for the product contact the number +39.0623231549
Description
Recurve V2 RDA Wotofo Atomizer
Recurve V2 RDA Wotofo Atomizer Buy the updated and improved version of the famous Recurve RDA from Smo-King, the new Recurve V2 is a Rebuildable Tank made by Wotofo in collaboration with the youtuber Mike Vapes, which takes the Vaping experience to the next level, in fact after the great success of the previous Recurve decides to debut again with the new version, erecting its sinuous and Elegant Design, an Atomizer for Electronic Cigarettes with excellent performance, which looks like a RDA with both Dual Mesh and Single Mesh.
RECURVE V2 RDA
Recurve V2 RDA is the new version of the Recurve Rebuildable Atomizer, born from a collaboration between Wotofo and Mike Vapes. A very elegant RDA Tank, with small dimensions but excellent performance, which maintains the Design of the previous Atomizer. As the name suggests, the Recurve has a curved Postless Deck that takes air from the side and gets it under the Coil. This stratagem allows to increase the Aromatic Yield thanks to the path taken by the air. The Recurve V2 has a diameter of 24.6mm to allow a correct and comfortable housing of 2 Mesh Coil. The air inlet is placed laterally with a Honeycomb structure, combined with two airflow adapters (Dual Build Airflow and Single Build Airflow) thus improving the flavor, able to accommodate and support both a Dual Mesh Coil from 3mm (ID Framed Staple Clapton) and a 5mm Single Mesh Coil (ID Dual Core Fused Clapton).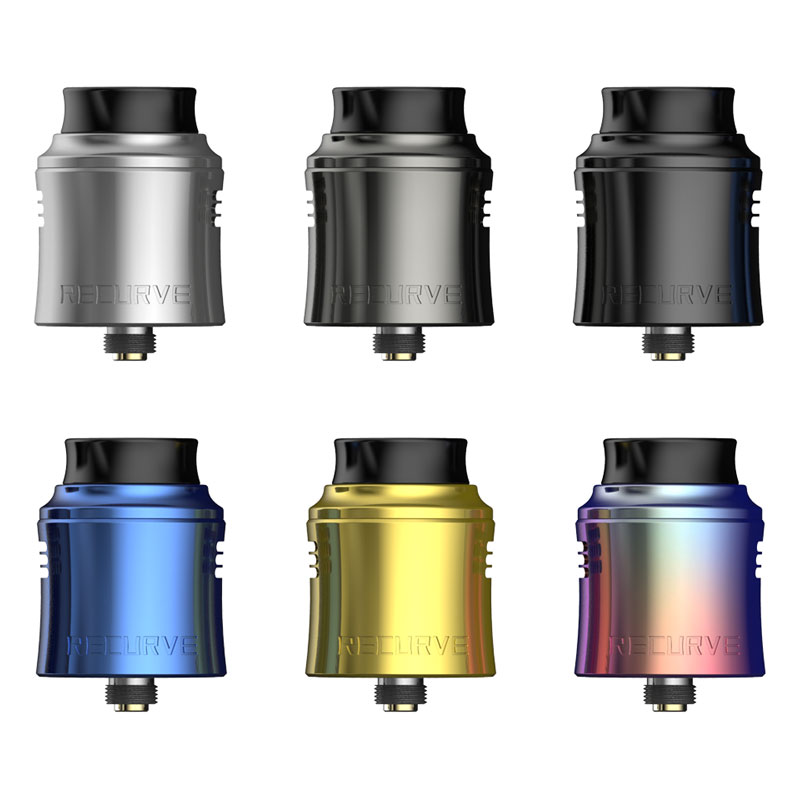 Data sheet