Minifit S Complete Kit 420mAh Justfog
Minifit S is the new Pod Mod heir to the best-selling Pod in the world of Vaping, made by Justfog, a Complete Kit with a Compact and Practical Design, with Integrated 420mAh Battery, ideal for Vaping Liquids Electronic Cigarette in MTL and for Stopping To smoke. Minifit S Complete Kit with 1.9ml Pod and 0.8Ohm Integrated Resistance.
Your order will be processed within 24/48 hours

In case of assistance for the product contact the number +39.0623231549
Description
Minifit S Complete Kit Justfog
Minifit S Complete Kit Justfog Buy the brand new Minifit S Complete Kit from Smo-King, after the great success of the Minifit Kit, which has been very successful in the world of Electronic Cigarettes. Minifit-S is a Pod Mod with a Small, light and Ergonomic Design, with Integrated 420mAh Battery, perfect for vaping with your Liquid Electronic Cigarette and for Quitting Smoking. This Electronic Cigarette, ideal for the Cheek Vape, will surprise you with its exceptional performance despite its small size.
MINIFIT S POD MOD
Minifit S Pod Mod is the portable cigarette, heir to the famous Minifit Pod Mod and is made by Justfog in PC and Aluminum, very small but also very resistant and with excellent performance. MinifitS has a capacity of 420mAh with a constant voltage of 3.4V. Thanks to its rechargeable Pod with 0.8Ohm Integrated Resistance, you can use any Electronic Cigarette Liquid and every time the Resistance is exhausted you will simply replace the entire tank. Easy, Quick and Practical. The 420 mAh Integrated Battery combined with the 1.9ml Tank will allow you to cover most of the day with average use.
The smallest Electronic Cigarette in the world, after the Minifit Pod Mod but with excellent capabilities, ready to drive even the most demanding Vapers crazy again, ideal to always carry it with you and perfect for Quitting Smoking.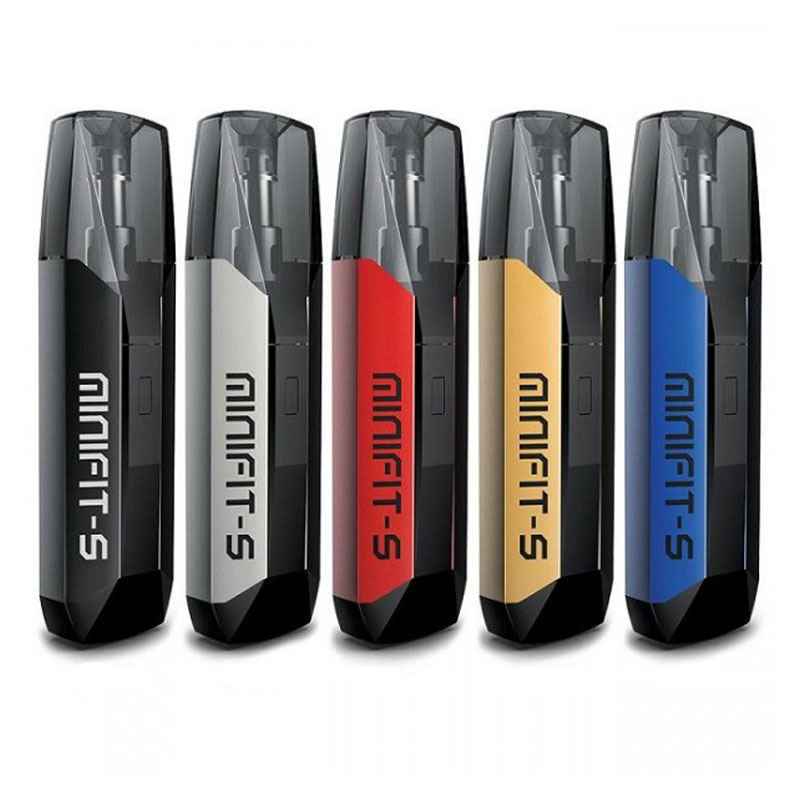 MINIFIT-S FEATURES:
Dimensions: 21.5x15.6x54.4mm

Battery: Integrated 420mAh

Weight: 18.2g

Material: PC and anodized aluminum

Liquid capacity: 1.9ml

Resistance: Integrated 0.9Ohm

Charging: USB-C DV 5V
INCLUDED IN THE PACKAGE:
1x Minifit-S Pod

1x Minifit-S Battery

1x USB-C cable

1x User Manual
Data sheet