EZ TUBE Complete Kit 2100mAh Innokin
Discover the 40W EZ TUBE, the latest addition to the Platform series, a 2100mAh Complete Kit with a minimalist design, which combines perfectly with the new Zenith Minimal Tank for an unparalleled vaping experience.
Available in the colors: SAKURO PINK, NIGHTFALL BLACK, CRIMSON RED, CERULEAN BLUE, SILVER GLOW, LUNAR GRAY, INDIGO LILAC AND EMERALD AMETHYST.
Your order will be processed within 24/48 hours

In case of assistance for the product contact the number +39.0623231549
Description
EZ TUBE Complete Kit 2100mAh Innokin
EZ TUBE Complete Kit made by Innokin, is the most recent addition to the Platform Series, an electronic cigarette with a minimalist design and a competitive price. With its perfect pairing with Zenith Minimal, EZ TUBE with 2100mAh Integrated Battery, creates an unparalleled vaping experience.
EZ TUBE KIT ZENITH MINIMAL
EZ TUBE is an economical pen-style kit, characterized by a minimalist and elegant design. It pairs perfectly with the Zenith Minimal atomizer with an Electronic Cigarette Liquid capacity of 4ml, compatible with all 8 Z-Coil resistors, supplied as standard with 0.3 Ohm and 0.8 Ohm coils to offer you a range of vaping experiences from the first use.

The rotary power adjustment system allows you to set the power from 6 to 40W with precision and clarity, switching from MTL to RDL output with a simple gesture.

The OLED display discreetly hidden at the bottom of the device provides you with all the necessary information, such as wattage, puff count and puff duration, for a complete vaping experience.

The high-quality 2100mAh internal battery ensures you have long vaping sessions without having to worry about running out of juice. The circular indicator allows you to always keep an eye on the battery level.

EZ TUBE comes with two different drip tips, one for MTL vaping and one for RDL vaping, to allow you to choose the one that best suits your vaping style.

EZ TUBE is available in 8 vibrant colors, to express your personality.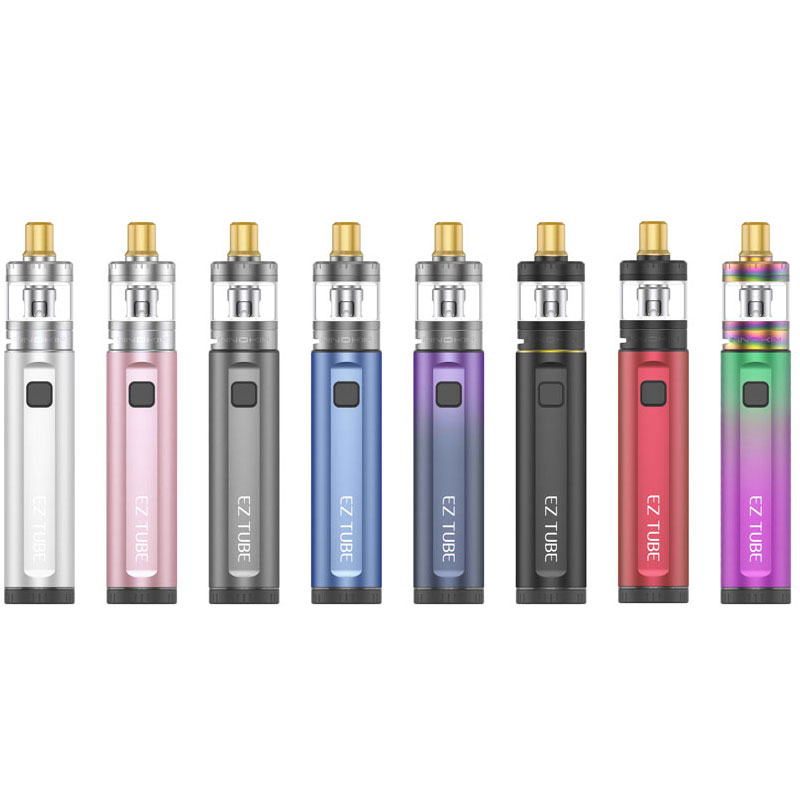 EZ TUBE KIT FEATURES:
Dimensions without Tank: 25 x 90mm

Dimensions with Tank: 25 x 139.2

Material: Aluminum Alloy

Battery: Integrated 2100mAh

Display: OLED

Attack: 510

Power: 6-40W

Max voltage: 1-7.5V

Drip Tip: 510 MTL/RDL

Vaping: MTL/RDL

Compatible resistors: Z-COIL Series

Resistance Range: 0.3-3.5Ohm

Max. Output: 15A

Available colors: 8 colours
INCLUDED IN THE EZ TUBE KIT PACKAGE:
1x EZ TUBE Mod 2100mAh

1x Zenith Minimal Tank 4ml (MTL Z-Coil 0.8Ohm pre-installed)

1x RDL Z-Coil 0.3Ohm

1x 4ml spare glass

1x MTL Drip Tip

1x Drip Tip RDL

1x O-Ring Set

1x User Manual
EZ TUBE Complete Kit 2100mAh Innokin
Data sheet
Data sheet
P1

Sigarette Elettroniche

Tipologia Tiro

MTL
RDL
Svapo di Guancia
Svapo di Polmone

Formato Batteria


Integrata

Potenza Max

Tipologia Resistenze