Drag H40 Complete Kit 40W Voopoo
Drag H40 is the new 40W Complete Kit with a compact and Ergonomic Design, a Mod with 5ml PnP Pod II, made by Voopoo, with 1500mAh Battery included, ideal to satisfy even the most demanding, to be vaped with your favorite Electronic Cigarette Liquid . Compatible with all PnP coils.

Pod Mod Kit Available in colors: BLACK, GUNMETAL, GREEN, PINK, SNOW BLUE, SKY BLUE AND MODERN RED.
Your order will be processed within 24/48 hours

In case of assistance for the product contact the number +39.0623231549
Description
Drag H40 Completo Kit 40W Voopoo
Drag H40 Completo Kit 40W Voopoo Buy the new Electronic Cigarette from Smo-King, made by Voopoo; Drag H80S is a Complete Kit powered by a 18650 Battery (not included), with a maximum power of 80W and a 5ml PnP II Pod. A Pod Mod Kit with a solid and elegant design, perfect to meet the needs of beginners and experts. Try this fantastic Pod now with your favorite Electronic Cigarette Liquid.
DRAG H40 COMPLETE KIT
The air inlet is highly customizable thanks to the innovative pod design, which allows you to adjust the airflow by simply rotating the pod itself. In addition, the included PnP II pod has a generous 5ml e-juice capacity, allowing you to enjoy your vaping sessions for a long time without having to refill it frequently.


The versatility of this device expands further thanks to the PnP Coil resistors, in particular those above 0.3ohm, which ensure optimal performance.

In the package you will find two resistances, which will offer you a wide range of vape possibilities:
PnP-VM3 0.45ohm (25-35W)

0.3ohm PnP-TW30 (28-36W)
To keep all the necessary information under control, the 0.54-inch display will allow you to easily view the usage parameters and device settings. Furthermore, the presence of the replaceable drip tip increases the convenience and hygiene of your device.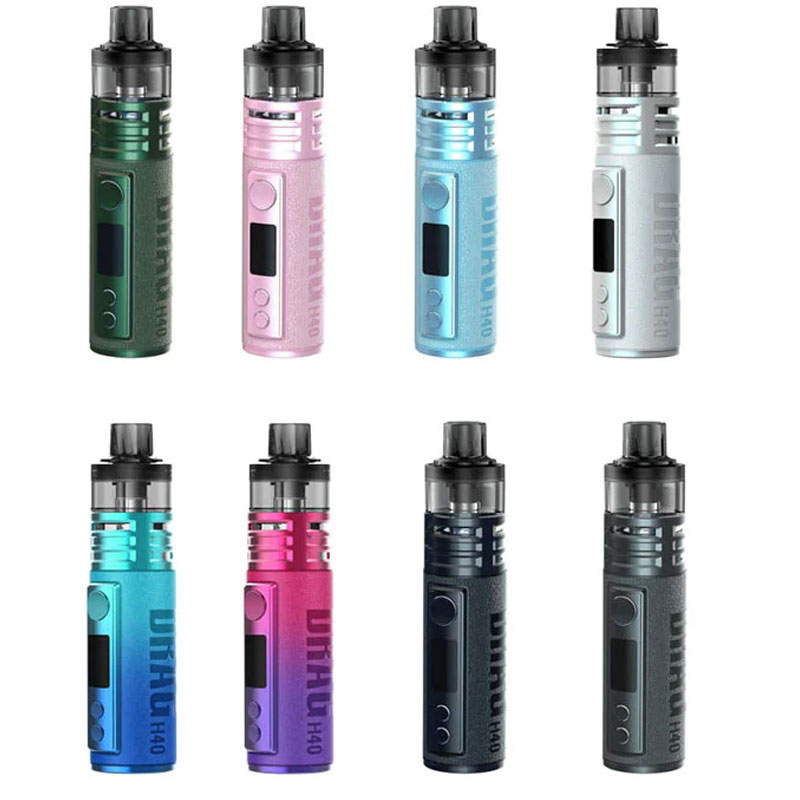 DAG H40 FEATURES:
Dimensions: 123 x 26 x 32mm
Battery: Single 18650 (not included)
Power: 80W
Capacity: 4.5ml
Resistance range: 0.1-3.0ohm
PnP-TW15 0.15ohm (55-70W)
PnP-TW30 0.3ohm (28-36W)
Fast charging via USB-C
INCLUDED IN THE PACKAGE:
1x Drag H40S Device

1x PnP Pod II

1x PnP-TW30 0.3ohm coil

1x PnP-VM3 Coil 0.45ohm

USB-C cable

User Manual
Data sheet