Argus P1 Pod Mod Kit 800mAh Voopoo
Argus P1 Pod Mod is the new Electronic Cigarette made by Voopoo, the version of this small Complete Kit has an 800mAh Integrated Battery with Maximum Power of 20W.

Compatible with: Argus Pod Integrated resistor ITO-M1 0.7 Ohm and ITO-M3 1.2Ohm (Included). But also with Argus Pod Empty cartridge (Included) compatible with all ITO Coils

Available in the colors: BLACK, GUNMETAL, RED, SILVER, GREEN, BRIGHT YELLOW, AQUA BLUE and PASSION PINK.
Your order will be processed within 24/48 hours

In case of assistance for the product contact the number +39.0623231549
Description
Argus P1 Pod Mod Kit 800mAh Voopoo
Argus P1 Pod Mod Kit 800mAh Voopoo Available from Smo-King the new Argus P1 by Voopoo, an exceptional vaping device that offers a combination of power, versatility and convenience. With a built-in 800mAh battery, this device is designed to deliver reliable performance throughout the day. Charging is fast and simple thanks to the USB-C port, with a maximum power of 20W, ensuring that you will always be ready to enjoy your favorite Electronic Cigarette Liquid.
ARGUS P1 COMPLETE KIT
Argus P1 Complete Kit also offers automatic shooting, making the use of the device extremely simple for beginners and convenient for advanced users. One of the standout features of the Argus P1 is its compatibility with Argus Pods with integrated coil, which further simplifies the vaping experience. However, the real advantage lies in the included Pods with replaceable resistance compatible with ITO Coils. These coils are designed to offer a wide range of vaping experiences. Included in the package we also find the Pods with Integrated Coil:
 ITO-M1 0.7ohm, with a power range of 14 to 18W, is perfect for dense clouds and intense flavor.

The 1.2ohm ITO-M3 offers a milder draw sensation, ideal for those looking for a vaping experience more similar to a traditional cigarette.
The GENE.AI 1.2 Chipset is the heart of this device, ensuring not only a safe, but also an intelligent vaping experience. The chipset automatically adjusts power output based on the coil or pod used, eliminating the need for complex manual adjustments. This means you can enjoy your vape without worrying about the settings.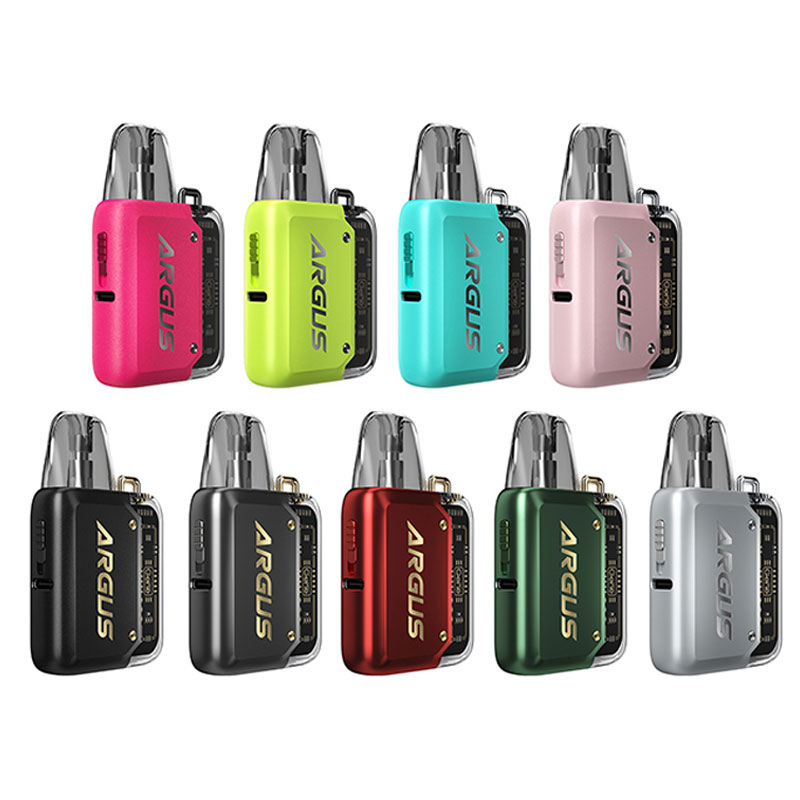 Data sheet
Data sheet
P1

Sigarette Elettroniche

Tipologia Tiro

Svapo di Guancia

Formato Batteria

Integrata

Potenza Max

Capienza Liquido

2 ml

Ricarica Batteria

Cavo USB-C

Tipologia Resistenze